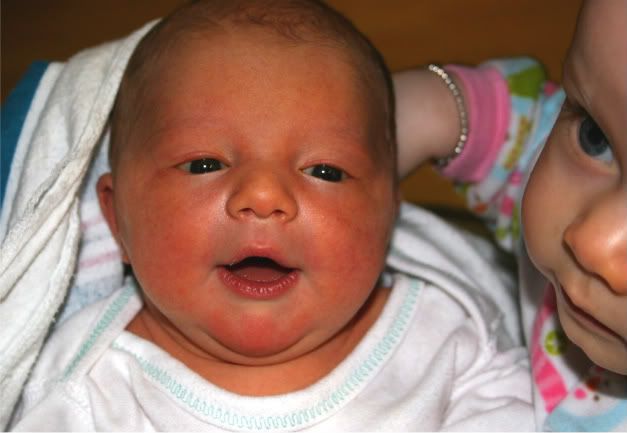 My niece Lindsay had her third baby boy this week,
an 8 lb. 9 oz. bundle named ...... actually, that is still undecided (maybe Liam, and I do love the name Liam).
And I also know that I have already posted about this before, over
here
, but I will say it again,
I absolutely adore newborn babies.
Look at this face! And that peachy skin, and his little rosebud lips!!!! So precious.
I was so excited to see Libby's reaction to a baby smaller than she was ... hmmm, she didn't have much of one. When he started fussing a little bit it did get her attention focused in his direction though. I had McCall set her on Lindsay's bed so I could take their picture together. I said, "Give him a kiss Libby."
"Mom. She doesn't even know how to do that yet."
Oh, silly me, I guess she is only 8 months old herself ... nevermind then. She just seemed a lot bigger next to a
freshly
delivered one.
Congratulations Lindsay ... he is so beautiful!