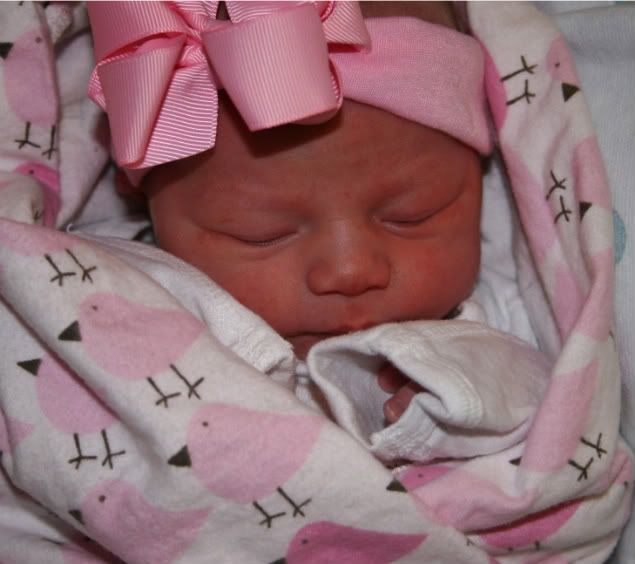 This is our Libby ... born August 31st, 2009 ... 6 lbs. 13 oz. - 18 1/2 inches
Welcome to the world little princess!


I have always loved newborns. I can remember when I had my first baby, my mom looked at pictures of her right after her birth and said, "Were you scared to death when you saw her?" She was a fairly dark shade of purple and covered with an orangish pasty something, but she was my first - I didn't know any different, and she was beautiful to me! All 8 lbs. 10 oz. of her!

Birth, in and of itself, is truly miraculous. How those little tiny beings are formed within a womb. How they are nourished through an umbilical cord (a miracle all on it's own). How they can grow and become a little person, with all the working parts, in only a matter of months ... they come to us so helpless, so dependant, so pure and precious - having left the presence of a father in heaven. Truly, a gift from God.

I love the way they smell. There is no way to describe that either. But there is a distinct, fresh, clean, beautiful smell to a newborn baby.

They grow and change much, much too quickly for my liking. I wish they could stay in that phase for at least as long as it took to get them to us.

When I had my son, he was a big, chunky 8 pounds, 13 ounces, with a rather large head - according to my nurse. And that little guy turned out to be my very best baby too. He slept better than my girls had. He burped better than my girls had. And he almost never, ever spit up. Which made him smell fresh and clean when I held and cuddled him, and I loved that.

Elliott was only about a month old when my friend, Delanie, said to me, "I feel kind of sorry for you, because I know how much you love newborns and he surpassed that right into infant stage. He is huge already!" But I enjoyed him so much as a baby, that I knew I wanted another one ...

I remember holding that next tiny baby on my couch one day. She was my fifth and I sensed, my last. She was probably only a couple of weeks old (if that), and a friend stopped in, having brought my older girls home from school. She said, "Is that all you do all day? Just sit there and hold her?"

I had to answer, "I wish this was all I did all day. Just sit here and hold her."I wanted to savor every moment of that newness of her - breathe her in as best I could. Hang on to the sweetness of a newborn, my beautiful little newborn.