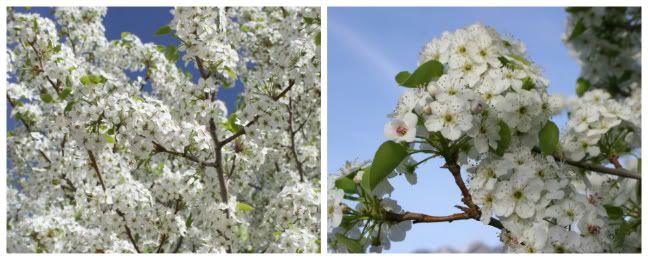 One of the things I love about early Spring is when the trees bring forth blossoms. One of my favorites is the flowering pear tree. I have one in my front yard and one in my back yard and the city decided to line the top of my street with them too ... lucky me.
When my friend, Delanie, visited in April she asked what kind of trees they were because she thought they were so beautiful too. That's when I realized that they were particularly indigenous to Utah but not so much in California ... but then California has stunning bougainvillea vines that climb walls and arbors and trees and are SO gorgeous, (but they just don't grow here - I really do miss those.)
After the flowering pear trees have lost their blooms and turned to green for the rest of the season, out comes the blossoms of the (I'm guessing here 'cause I'm just not quite sure if this is what they are) flowering almond trees. I am madly in love with them and definitely need to get some planted in my own yard!
There are several in the landscape around my office complex and every single day I look and think those are the sweetest little trees I have ever seen. The blossoms start out as round, tight, dark pink balls ... then they open up and look like miniature roses ... and then their petals open up wide into a beautiful light pink. They're just so ... so ... delightful! :)