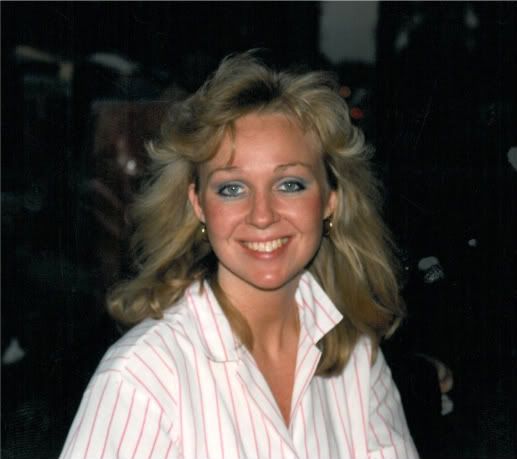 When I first thought of doing a post of my readers' favorite photos of themselves I knew that it would probably be the most fun for me ... not you, because going through your photos, whether they be in frames, in boxes, in chronological order, or in complete disarray all over your house is not an easy task. Especially when you are looking for a specific one. So I really do appreciate those of you who were willing to take part - even if it was just for me. (Let's do lunch!)

I heard lots of comments from you like: I don't really have a photo that I love of myself ... I am always the one behind the camera ... I never take a good picture ... I can't find any photos of myself that aren't awful. And I couldn't help but think, "Why, as women, are we so hard on ourselves?" (The younger generation in these photos did NOT, however, have those same things to say. And I will add that the current generation of young women and mothers are so lucky to have the technology of digital. Remember when we use to take several rolls of film at a particular event, drop them off to be developed, and then cross our fingers waiting to see if we had any good ones?)

I knew that two of my sisters would need some prodding to dig for me, so I told them I was on my way to get their photos and each of them, at that moment, started to round up their totes and boxes and files ... and with kids gathered around, had a really good time taking that trip down memory lane. My sister, Leslie said, "Okay, this is inspiring me. I need to lose weight, and I need to get these organized!"

Some of us used current photos, and some had to reach way back to college days to find the time when we remembered being cute. (I wasn't cute in college, so one of us wasn't me.)

What I did find enjoyable was that several of you sent me a few different choices and said, "I can't decide, so you decide for me and then surprise me!" Which meant that you had more than one that you really did like ... and I bet there are even more than those too.

I had also requested that you tell me why you liked that particular photo as well and it was a common response to hear, "It was just such a good, happy time for me." I guess our happiness can be measured in photos too. (Like the recent ones I posted from Mother's Day of me with Libby - that little doll makes me happy and it showed.)

This picture I chose of me was at the end of a long day on my first baby's 2nd birthday. We had invited family and some friends to a park near our house and had pizza and cake, and played some games. It was a good time for me ... I was a new mother with a perfect little daughter (not the least bit a terrible two year old), I was wearing one of my favorite outfits I think I ever owned ... you know how you really just love certain clothes you have and then you just hate it when you either out grow them or they go out of style, which ever comes first?

Sidenote: Okay, that reminds me and I have to share this because it was too funny - when I was at Leslie's house helping her hunt for her favortie picture, which she had in her mind but never was able to locate, she held up a picture from about 8 years ago and showed it to one of her daughters and said, "This is a good one of all of us."

Her daughter looked at the picture and then looked at her mom and said, "Look what you are wearing in that picture mom. Does it look familiar?"

Leslie looked at the picture and then realized that it was the same outfit she was currently wearing. She said, "Well the classics never go out of style do they?" We laughed.

... So even though this picture of me was before I had ever colored my hair, and before teeth whitening was an option, I have always counted it as one of my favorites. I don't really like my picture taken, and I am definitely one of those moms who tend to be behind the lens most of the time, but every once in awhile someone else offers to take my picture and every once in awhile I get lucky and I like it.

And here YOU are:


McCall:
There's something about this picture. It may have been just a fun, fun time, ya know? Seeing Jared after so long…seeing Josh and Brandie...Chicago
.
I just like it.
Ali: I love this because it's candid. I still to this day have no idea who took it. I also love my red hair. When I picture my own face in my mind this is usually what I see. Big eyes, big eyebrows, statement hair and an armpit. The other reason I love it is because McCall and I used to play a game called "this is how I would crop it" and usually you choose the most unflattering or weird thing in the picture and zoom in. I would definitely crop it on the girl behind me (she is my friend Amber) or a closeup on the gum in my mouth. The last reason I love it is because it was my last night out with my friends in Utah before I moved to L.A. It was so much fun and I will always remember that night. I felt just as happy as I look in the picture.




Megan : I like this picture because it was one of the times I went home to Wisconsin to be with family and we just had a really great time together!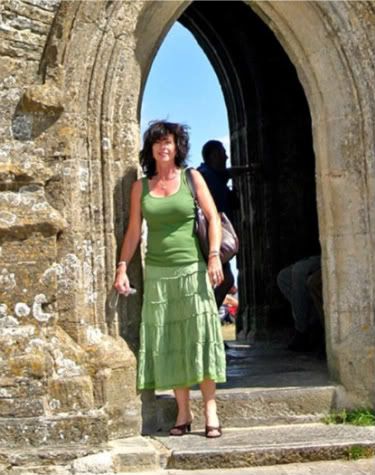 Lisa : This picture of me is at the Tor in Glastonbury, home to King Arthur! I like it because it was a day of great adventure! And because I weighed twenty pounds less!!!! Dang ...

Delanie: This picture was taken during our Christmas card photo session. I was 5 months pregnant with my second child. I love being pregnant and I loved that that baby was a girl.

(And I have to tell you ... Delanie's husband scanned and emailed me this picture, but he also sent me another email that said, "Delanie and I couldn't agree on which one was the best. She liked this one, but this next one is my favorite." And attached to the email was a picute of her in the tub as a skinny, sexy little newlywed! I laughed my head off ... good for you Rob!)



Spring:
"Here ... this is my favorite picture." (Spring handed me the photo. I looked at it. I looked closer and although that is her husband in the white shirt, the girl is Christy Brinkley! I laughed at that one too ... see what I said about this being much more fun for me???)
Spring, take #2:
This is me back in the BYU days. I had a ton of good guy friends and we had so much fun together! I was playing soccer, riding my bike and I had a lot better body back then before my six kids!
Leslie
: This was outside my apartments in college. I had just met the man I was going to marry and was really happy. I loved this sweater too and these are pre-baby hips!!!
Courtney:
I love Halloween in general, but this past year I got really, really into making costumes for everyone. Will and I were Oz-ians from the Emerald City. We had so much fun and it's nice to have a picture that makes you look thin!
Diane:
This was taken at our 28th wedding anniversary celebration. We took our boys out to dinner with us and they brought their girlfriends too. And I always have fun with my girls!!! I love it when they bring girls around!!!
Vicki:
This was John and I having dinner on my 50th birthday. It was at one of our favorite restaurants with one of my favorite views. Having dinner with my best friend and I thought,
I don't look too bad for being 50!!!!
Shelly:
I just love this picture because it's me and my girls ... MY GIRLS!!!!!
Kimberlie:
I love this picture because it was the best trip Drew and I have ever taken. We went to Hawaii and had so much fun. It was a really, really great time in our lives.
Paige:
Just thinking about how much I love Jordan sometimes makes me cry. How does life get any better than this?
Thanks so much lovely ladies ...
xoxo