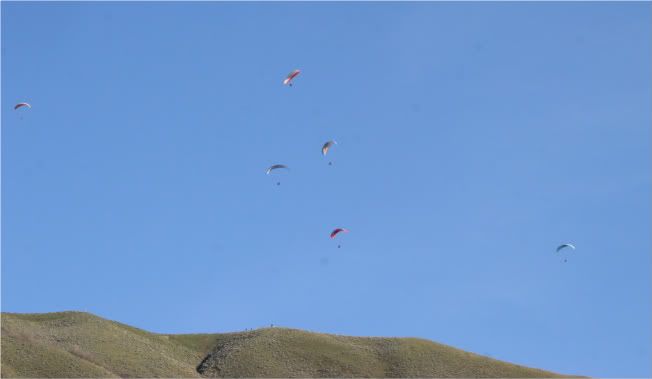 This morning as I was heading out of my neighborhood, I said to Sophie,
"It is such a beautiful day. It really is so gorgeous around here, isn't it?" And then as we looked out at the mountains to the west of us, I pointed out the part of the mountain where the Kennecott Copper Mine is and I said, "I don't know if this is really true, but I heard that that is a man-made wonder that you can see from outer space."
Sophie said, "There are a lot of really good things here in Utah. Did you know that Hill Crest High's drill team is fifth in the nation?"
Well ... no I didn't. When she said there are a lot of good things here in Utah I was thinking more along the lines of Zions National Park, the Sundance Film Festival, the 2002 Winter Olympics, our claim on Mitt Romney, Julianne and Derrik Huff of
Dancing With the Stars
, the Osmonds ...
We chatted a little bit about some of those things and then I said, "It's weird too that if you hang glide and mention 'Point of the Mountain', any paraglider in the world will know what you're talking about." And that's right here in Draper. In our own little neighborhood.
She said, "Really? That's way cool."
Now that the weather has been nicer (well, a few random beautiful Spring days here and there), the gliders are out ... and I love seeing them overhead in my neighborhood.
It's one of the good things in Utah. :)