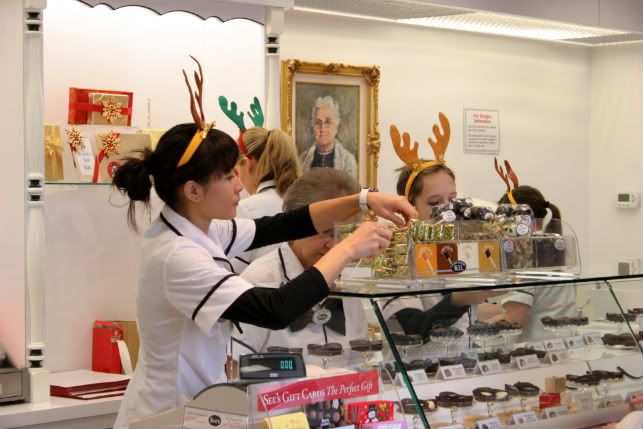 See's has been a Christmas morning tradition for as long as I can remember.
I have always had a box of See's chocolates to pass around the room while we are opening up our presents. (And when the kids were little and enthralled in their own goodies in their stockings, I was usually the one who ate most of the box.)
Last year, as we were sitting in the family room, taking turns opening presents, it hit me like a ton of bricks,
I didn't have the box of See's!!!!
And then, completely out of my own control, I started to cry.
The kids were confused. They looked at me. McCall said, "Mom? What's wrong?"
"I forgot to get the box of See's. It's tradition." I am pretty sure they thought I had completely lost my mind. They could have cared less. But I cared - apparently a lot.
So about a week ago, McCall said, "Mom. Please go to See's and get your candy so you don't break down again on Christmas morning. We didn't even know what to do when you started crying last year."
I just got back from See's. And this time I hand picked all of the pieces. My friend Vicki stopped by my office yesterday with a gift certificate for a one pound box. She
always
hand picks her boxes, I usually don't, but she was pretty insistant that I take the time to do that.
Now I'm really excited ... even though they were out of my very favorite (milk chocolate peanut clusters), that caused me to look at all of the other choices. I think I picked some pretty good stuff!
After thought:
My friend Diane has also sent me See's candy in the mail at Christmastime for as long as I can remember. Sometimes it is the yummy solid milk chocolate balls, sometimes it is the fancy shmacy box of truffles and sometimes it is a box of varieties. But it is always See's and it is always good ... thanks Di!