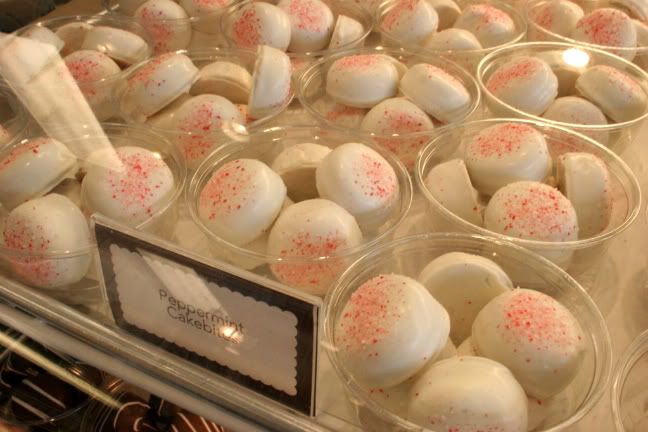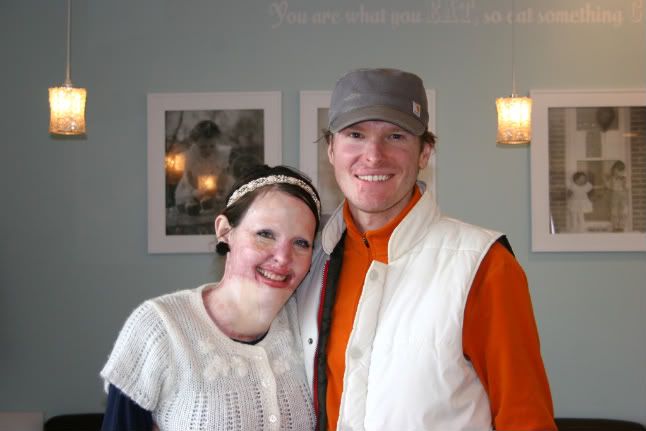 The first thing I needed to check off my to do list for Saturday was get my Tennessee girls'
Christmas boxes off! The post office is only open until noon, so that was my top priority. I got everything wrapped and I really wanted to include something yummy and edible, so I decided to run to the Sweet Tooth Fairy for some cake bites. (They are soooo delicious and come in plastic containters so I figured they would travel well.)
I had read on Stephanie Nielson's blog (the
Nie-Nie dialogues
) that she was going to be at the Draper Sweet Tooth Fairy signing her calendars too ... perfect - but I was in such a hurry to get the gifts mailed that I only had time to run in, grab the treats and run back out the door to head off to my office to pack up the boxes. McCall wanted to come with me so I asked her to run by the house, pick up Sophie and I could meet them back at the Sweet Tooth Fairy after the package was mailed.
I was putting the finishing touches into the boxes when I got a text message from my sister, Courtney:
Check out Nie Nie's blog. She had a homemade Christmas feature and she showed my "frame of misfit toys" today!!!!!!!"
Say, what?
Now, Courtney hadn't mentioned a thing about this to me or any of her sisters, so I don't even know if I would have put two and two together when Nie-Nie wrote:
Here is a gift I just received from sweet Courtney S. Look at the detail.
I adore it so much!
(Click
here
to see the frame.)


That silly Courtney - her creativity never ceases to amaze me. Everything on that frame has something to do with the Nielson family.

She and my sister Spring have been gathering mercury glass ornaments for YEARS hoping (one day) to get a wreath made that they had seen in a magazine and loved. After about 4 years of planning on making it, one night, a few weeks ago, Courtney decided that that was the night. She gathered her ornaments, wreath and glue gun and went to work. When I stopped by to see her wreath, I couldn't believe it. In fact, I shouldn't even be mentioning this since I don't have a picture, so I will stop this part of the story here and continue it when I have a visual aid to go along with it.

Meanwhile, back at the Sweet Tooth Fairy, McCall and Sophie and I stood in line behind a couple of other women to meet Stephanie and have her sign one of her calendars. As we watched her and her husband Christian visit with the other women, we couldn't help but just fall in love with them. They were both so endearing and sweet and personable. Each of the women had a little story to share and one of them cried.

When it was our turn I looked at Stephanie and said, "Everyone has a connection don't they?"

Stephanie smiled and said, "Go ahead. What's yours?"

"Well, my first one is that my sister Spring is good friends with your sister Page, and Spring actually lives right around the corner from you." Stephanie remembered meeting her once before with Page. "And my other sister, Courtney, just sent me a text message saying that you featured her frame on your blog today."

Both she and Christian just lit up and went on and on about how much they loved that frame! Christian said, "It is like a Where's Waldo book. The kids just love looking at everything on it and Nicholas was pointing to all the things he wants." Stephanie said that she wanted one in every room of her house. (That made Courtney really happy.)

It was truly our pleasure to get to meet them both. They are just darling people.