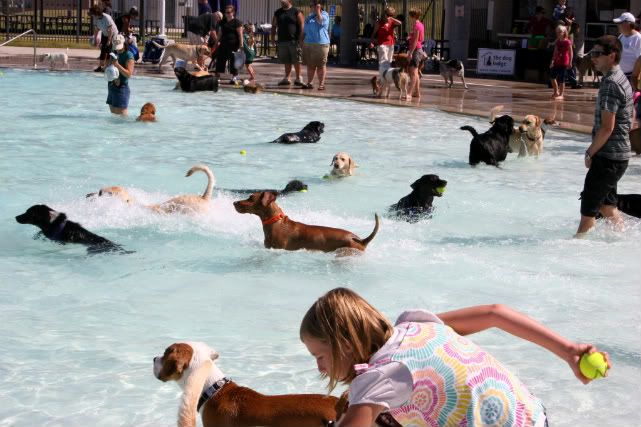 I first learned about doggie day at the Draper pool right about this time last year.
Officially, it is called Walk, Wag, and Swim. The Salt Lake City Parks and Recreation sponsors the event as a fundraiser for "No More Homeless Pets." It is held on the last day of the season - right before they drain the pool. (Good idea, don't you think?)
I had a ball last year just watching those puppies run and jump and play. I told McCall about it and said that we FOR SURE needed to bring her dog, Cooper, next year.

Well last Saturday was the Walk, Wag, and Swim. And we were so excited to take Cooper. We thought he would love it! He didn't. At least not the swimming part. Oh he did love the freedom, and sniffing around with all the other dogs, but the water - not so much. And we were just a little disappointed about that.

McCall tossed him in the pool and that little puppy turned right around and quickly paddled back to the steps to get out ASAP. We followed him around the pool for a little bit, encouraging him to approach the water, but he was just not interested in getting wet. But McCall tossed him in the water again anyway. (You know, thinking maybe once he got used to the idea ...) But he paddled his way back to the edge looking like a little drown rat and heaved himself up. (We did get quite a good laugh out of how funny he looks wet!)

We walked all the way around the perimeter of the pool, over to the shallow, shallow, shallowest part and I waded in calling his name. But Coop had wised up by then and wasn't going to get anywhere near it. Sigh. We tried.

But those big puppies sure love the water.