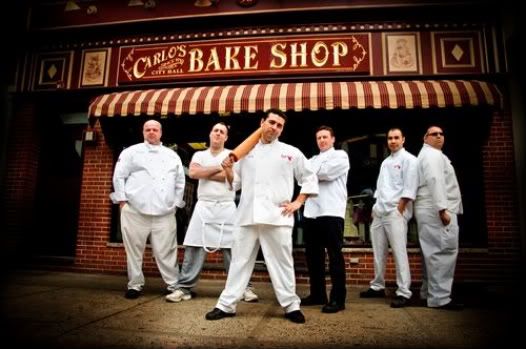 I know they look like a mafia family, but they are really the stars of the reality show "CAKE BOSS." That guy up front, with the weapon, is Vinny - I mean, Buddy. And the show wouldn't be half as entertaining without him.
You talk about the epitome of the stereo typical New Yorker - Buddy's your guy. He is the real deal. Although, technically it isn't New York ... but Carlo's Bakery is just a hop, skip and a jump away in Hobokan, New Jersey. These are the Jersey boys who bake and create the most amazing cakes and pastries.
I had a crazy, busy weekend. But late Saturday night, after helping clean up from a surprise luau party (oh and it was so cute, I'll have to post pictures) I plopped my tired, sore self down on my couch and watched hours of the CAKE BOSS. They were having a marathon on TLC.
On one of the episodes, Buddy announced to the staff that he was going to start an annual cupcake day at Carlos Bakery. (Lots of man moans ensued.) But Buddy thought it would be a great way to "give back to the community." His idea was to bake 3,000 cupcakes and sell them out in front of the store so that each customer could pick which flower design and flavor they wanted their cupcake to be, which meant that all those rough and tough looking guys up above had to stand outside and do their decorating in the heat and humity on the sidewalk. (Many, many more man moans ensued.)
Buddy's the BOSS so that's what they did. He knew it would be a huge success because he said, "Cupcakes are really trendy right now." And as I have said before, I think the blogging world has a whole lot to do with it too. Everyone is grabbing hold of the cupcake LoVe.
The guys at Carlo's make so many amazing cakes that it would be hard to pick a favorite one, but one of the cute ideas Buddy came up with on a show last Saturday night, was to scoop frosting into little cones so it looked like ice cream on a cake they made for a Hagen-Das event. And when the real strawberries in the frosting started dripping down the cake cartons ... Buddy said, "Let's cover up those drips with frosting so it looks like the ice cream is melting."
He's pretty darn creative, and just watching Buddy's animated personality and hearing him pronounce the word fondant makes the show that much more fun. :)