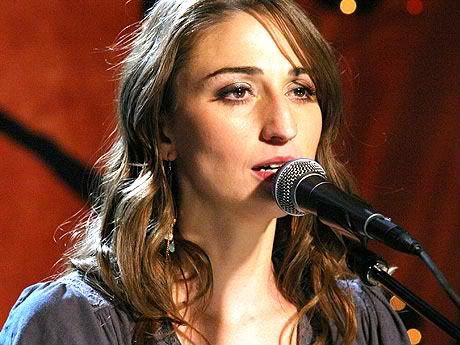 I just love Sara Bareilles. She has one of my favorite voices of all time. And she writes quite a few songs just for me. I'm pretty sure of it. She knows my heart.
I think it was just last week that I heard she was coming to Salt Lake City and I meant to mention that to my daughter, McCall who loves her too. I totally forgot to mention that to her.
Then last night, when I was with McCall, she said, "Oh Mom, I got Sara Bareilles' new CD so while you're here I will burn you a copy." And I still forgot to mention it.
But as I was listening to Sara's new CD on my way home, I remembered that I forgot to tell her so I called her up - she didn't answer - so I left a message.
This morning, McCall called me up - I couldn't answer - so she left me a message.
(Tag. My turn.)
I emailed her at work and asked if she had heard that Sara Bareilles was coming to town. Her email back to me was the link to buy the tickets to the concert and all of the information about it. (McCall is like that, besides being thoughtful, she can also be more thorough than her mama. She is such a good daughter.)
I didn't really care what the tickets cost. The DJ on the radio had said that hearing her live was absolutely incredible, and I was SO going to go to this concert!
I clicked over and looked at Smithtix ... tickets were $20 now, $25 at the door - General Admission. Wow, that's a deal. Very cool. She's playing with two other artists at a small theater called the Avalon.
I bought two tickets. One for me and one for McCall. I'm a little excited. Maybe we'll get our picture with her ... pretty groovy if we do.