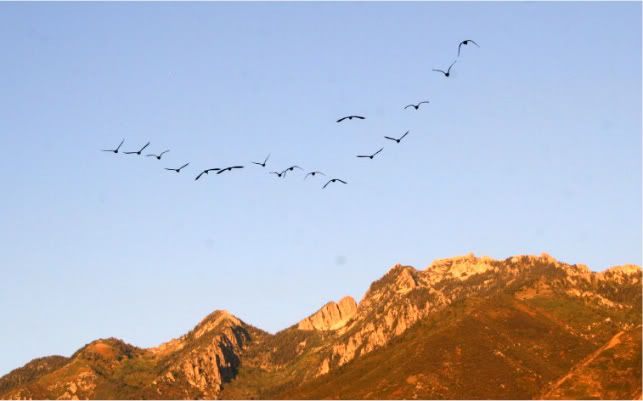 Having geese overhead for me is like texting and driving - I need to pull over.
A sure sign that fall is here in Draper is when the geese start their migrating.
Often times on my way to work in the morning, heading down 300 East, I hear their honking and it makes me smile. I'm not quite sure when my affinity for these beautiful birds started but I can't get enough of watching their flight. It fascinates me.
I got lucky the other night when I happened to be driving down 3rd East in the evening. It was just before dusk, there was a light rain (thus the spots on the pictures) and the geese were taking off from the nearby pond in full force. One group after another. I was so excited. Mostly because I happened to be in the right place at the right time, but also because I had the camera in the car.
I pulled over into a church parking lot, got out, and watched and listened. It was awesome.
The Utah National Guard is off of 300 East too ... it sits quite a ways back from the road. I figured the pond must be on the property of the base so I couldn't get to it. (I would love to watch them take off from the water.) But I looked closer and could see water behind a few of the houses along the street ... hmmm.
A friend of mine lives down a road not too far from that area. As luck would have it, I ran into her at Sam's Club just a few days after I took these pictures. We talked about the geese. She told me that you could get to the pond from her neighbor's back yard. I said,
Don't you just love having them here and being so close?
I think she sensed my enthousiasm and was trying to be sensitive to my emotions so she responded with, "Sure. Yes. I do love the geese. I don't love the mess that they and the ducks leave behind, however."
Hadn't really thought about that. I guess that's like showing your adoration for a new little baby and then having the mom say,
but his diaper is horrible to change
. You don't really want to know. You don't really want to have to think about that part of it, am I right?
Driving from my parents house in Pittsford, NY to Palmyra there is a rather large grassy area along the highway where geese are always gathered. I have no idea why, in that particular spot, but my sister Courtney said,
They are always here, and have been for years.
One day as we were passing I pulled the car over to try and get a closer look at my beloved geese. They didn't really appreciate an intruder. They ran away from me. I ran faster, so did they. Darn it.