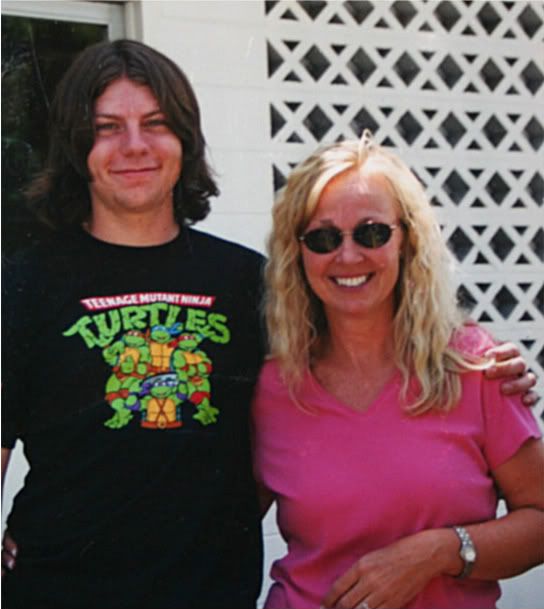 Okay, I know this is a REALLY random picture,
and you are thinking,
who the heck is that?
(Unless my brother sees this, because he is almost as good as I am at picking out random celebrities on the street.) This is Patrick Fugit. He was the young lead in "Almost Famous" which was Kate Hudson's break out role as well. (Only, clearly, Kate Hudson went on to get bigger and better gigs, while Patrick - although nominated for tons of awards as
best male breakout role and most promising actor
- opted to lay low in his home town of Salt Lake City, Utah and get back with his band!)
I was coming out of a business next to a burger place by the University of Utah, and there he was walking out of the restaurant. I walked right up to him and told him how phenomenal I thought he was in that movie, and he was both shocked and flattered. He couldn't believe that someone would even have a clue as to who he was. It was fun ... and I know how to spot 'em.
While I was still married, we used to like to spend "date night" down in Westwood, LA - which was right by UCLA. There were really great shops, and restaurants, and theaters. Almost every single time we were there, I would see someone famous. I saw a few soap stars ... "Leroy" from FAME ... one time I saw Lisa Hartman Black during the thick of her career on "Knots Landing." We kept running into her and finally I just had to say something. In true DORKSVILLE fan fashion, I said, "I am such a huge fan! Are you and Ben going to get back together?" (OH brother!)
She smiled and politely said, "I don't know. I guess that depends on the writers."
Yeah. Bye-bye now!
(I am much more non-challant now.)
My brother was visiting one weekend and we went to see an opening of a Disney Movie at the El Capitan Theater in Hollywood. There was an art gallery in the basement and we were walking through and Drew just shouted out, "Hey! Stewart Copeland! How you doing?"
I said, "Do you know him?"
And my brother said, "No. He is the drummer in the band, POLICE." Cool.
Another time, I was dropping off a friend at the airport here in Salt Lake City and noticed a
Sundance
white SUV waiting by the curb. Standing next to the car was the driver (I would assume) talking with Robert Redford!!!! I had my baby in her car seat and the camera on the floor and thought,
I am so getting her picture with him!
So I circled the parking lot once and by the time I got back by, they were gone ... I was really, really disappointed. He's kind of a biggie.
The last time I was in Nantucket, my parents and sisters and I were heading into town in their mini-van. We were stopped on the street, looking for a place to park and I said, "YOU GUYS! There's Martha Stewart! Right there ... crossing the street in the white pants with the dog."
They never would have seen her. Lucky for them I have a built in "celebrity radar".
Good times.