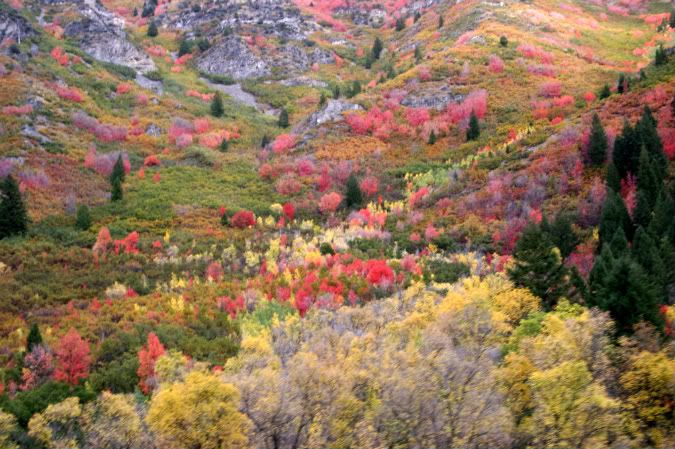 I have lived in several different states ...
New York, California, Hawaii, Connecticut, and currently, Utah. They each have their own special things that make them unique and beautiful in their own way. (I think Connecticut still might have them all beat for most beautiful - just my humble little opinion.) And one of the things that makes Utah so beautiful are these spectacular fall colors when you drive up it's numerous mountain canyons.
I took these pictures in the Provo Canyon, heading up toward Sundance. It really is almost awe inspiring ... to realize that this colorful backdrop wasn't planned or planted by man, but created in nature for us - to enjoy here on earth.
I have heard people say that California doesn't really have seasons. I beg to differ. In front of one of our houses we had two enormous trees (can't really tell you what kind they were though) whose leaves turned gold and fell to the ground in fall, making a huge mess in the front yard but also creating hours of entertainment for my girls. I love California winters too - they are cool and rainy ... good rain storms too, where it comes down in buckets all day long. That just does not happen here.
I know Utah probably can't compete with the east for the real glorious colors of the fall season, but the canyons and mountain sides sure do come close! And what also makes them so pretty, is the blue, blue skies and white puffy clouds that they lie under ... and you just don't see that in LA or NY!