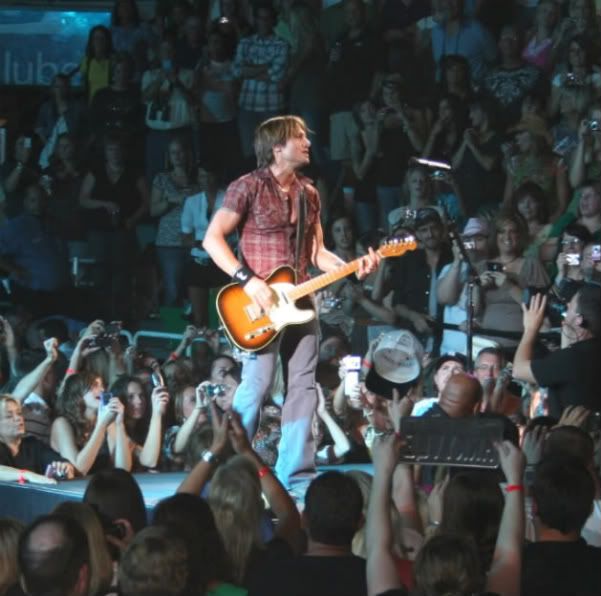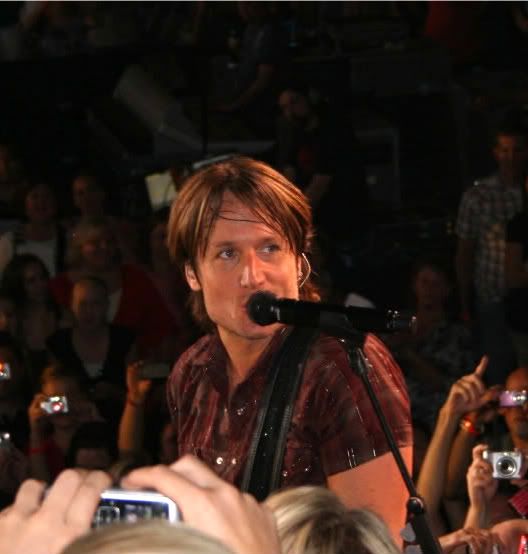 Tonight I went and saw Keith Urban in concert.
How adorable is
he
?
On my way home, one of the local radio stations had a "concert after the concert" on the air, and had asked people to call in, tell them what they loved the most about the concert, and then request a Keith Urban song.
Every caller had the same thing to say -
He totally includes the whole audience
.
I went to my first Keith Urban concert about this same time last year. I was late getting online for tickets so I had the idea to see what kind of seat I would get if I bought just one ... I could get a third row seat, so I went to the concert by myself.
I walked down the stairs, so excited to be sitting in the third row, but then when I reached my seat - although it was definitely the third row, it was the third row in the bleachers, farthest away from the stage. I called my daughter and said, "McCall! Can you please bring me binoculars, I can hardly see the stage!"
"You're in the third row, how can you not see the stage?"
I explained, she suggested that I see if they rent binoculars. They did, and that helped. (That and a big screen the size of Rhode Island.)
When I finally did sit down, it was an aisle seat. I was sitting next to a couple just a little older than me. The husband turned to me and quite surprised asked, "Are you here alone?" (Seriously, who goes to concerts alone?)
I smiled a little and said, "I am. I have a much better seat this way." Their tickets were an anniversary gift from their children, mostly because their children liked Keith Urban so much. (He was trying to involve me in pleasant conversation - I'm sure he felt sorry for me, all by myself and everything ...)
About half way through the concert, a small platform was uncovered right in front of our section of seats ... and onto it walked Keith Urban, his guitar, and just a couple of other band members. Why did I NOT KNOW you could take pictures at concerts these days??????
But that was then. Tonight I remembered my camera, and I had an aisle seat again - I left that seat a time or two to get a closer look. Good thing I was by myself.
It was a phenomenal show ... non stop energy. Keith Urban is amazing.