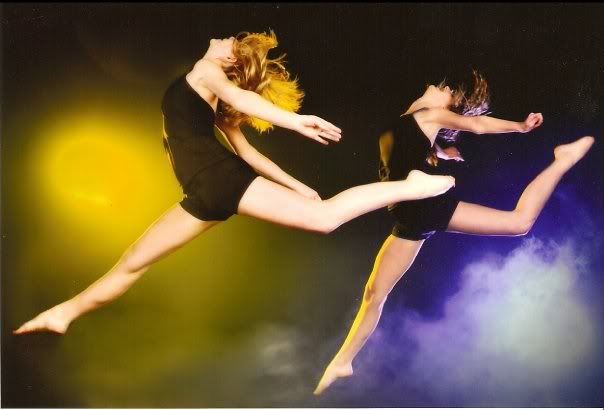 This is my daughter, Sophie (in front).
Sophie LOVES to dance and always has. All of my girls have taken dance classes since they were little, but Sophie got a much earlier start than any of her sisters. And probably
because
she had sisters in dance, she wanted to be just like them and do that too.
When Sophie was just 4, we were at the studio's annual, year end, 3 hour (endurance testing) dance recital. We were in the audience waiting for Sophie's little fairy clad class to come out on stage next. Apparently, Sophie was crying and did not want to go on stage, so to coax her, her teacher told her she could be the first one in line to lead everyone out.
That made her content, I guess, and so when the music started she marched as the leader, with her star wand held high, all the other little white fairies behind her. They walked out on the stage, crossed the stage, and continued to walk off the stage swallowed up by the curtains on the opposite side.
I thought it was hilarious - but OH BOY, did those other mothers have a fit! You would have thought that this was the graduation ceremony at an expensive college and their child hadn't been handed their diploma! It was so intense for some of them, that I didn't want to admit that it was my little girl who walked them off the stage, thus messing up their little routine!
That's not the dancing I'm referring to though, as my happy thing today! :)
I'm talking about when a song comes on the radio and you're in your car, and you just have to move. And everyone does it, you know you do. Sometimes you might be with people and sometimes you might be alone ... but whether it is your hips rocking in your seat, or your head bobbing up and down, your hands drumming on the steering wheel, or just your fingers tapping on the center console - you do it because you just can't help it. And it makes you happy.
The other day I was giving Elliott a ride somewhere and he started "rocking out" to a song. This is rare for Elliott - he is usually much more conservative and reserved with his mother, but it was just one of those songs, and he couldn't help it. I said, "Elliott, the guy next to us is totally watching you." So he bumped it up a notch and went a little more crazy.
We both laughed and then he said, "Is he really?" And I said, "No."