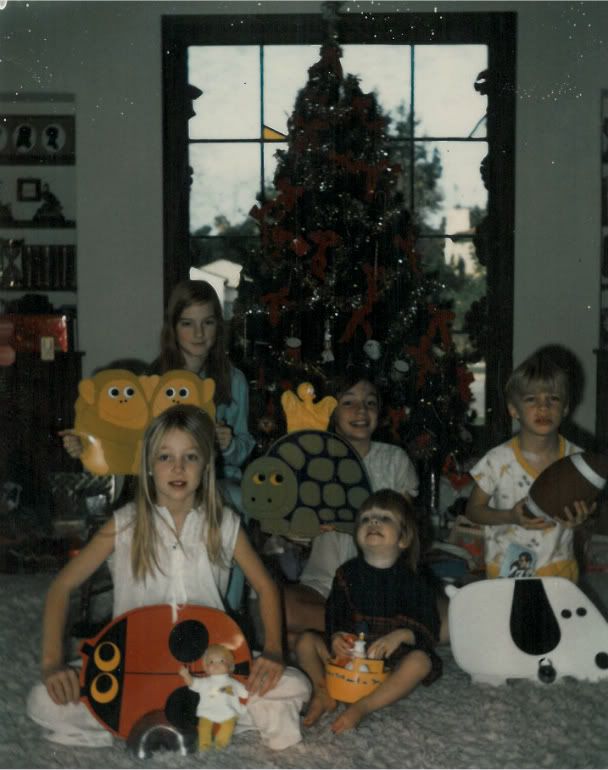 When I was cleaning up my office a while back, I went through several boxes of pictures. It was actually really fun. I kept running different pictures into where my girls were and we all had some good laughs over the nostalgia. (Especially my old family pictures with my mom in her wigs. My girls roared! Remember when moms used to wear wigs? My mom had two plus a "hair piece". She kept them on styrofoam heads in her closet and I thought they were SO cool and loved trying them on.)
Here is one of the pictures I came across from those wig wearing days ... late 60's. What was so fun for me about finding this picture after all these years was seeing my little Thumbelina doll again. (That would be the doll in front of the lady bug place mat, right next to the slinky.) I have been asked a few times what my favorite all time Christmas gift was and she was definitely one of them. (It is a toss up between her and a couple of other dolls ... I was so into dolls. LOVE them still! I used to tell my older sister that she was missing out because she didn't really like dolls. I told her the same thing about the Osmonds: You are missing out on so much fun because you don't like the Osmonds, Leslie!!! (She liked the Carpenters way more.)
My family had friends who owned an ice skating rink not too far from our house, so on several Christmases, we would go ice skating on Christmas day. What I remember about the Christmas that I got Thumbelina was that I sent her home with my friend Kathy that day, and she sent me home with her Barbie kitchen carousel. Kathy's family was at the staking rink too and we both loved each others presents so we made a temporary trade.
My mom didn't like us playing with Barbies so I didn't have any of my own. I thought Kathy's kitchen carousel was pretty much the coolest thing I had ever seen. There was an oven and sink and dishwasher all in a round, with cabinets above them ... pink and yellow, I think. The cabinets had tiny dishware that I wanted to eat it was so adorable! I am remembering water and sound effects for the appliances too .... anyway, I did love that carousel but was also happy to get my little Thumbelina baby home.
She had a string on her back that you pulled and she would move around and wiggle like a little baby. She was so tiny and so sweet ... I wish I still had her. I do still have my Velvet doll. Do you remember her? She was Chrissy's little sister? Chrissy had red hair and Velvet had blonde. They had buttons on their back that when you turned changed the length of their hair. Turn it one way, and hair from the center of their head would grow. Turn it the other way, and the hair disappeared again into the doll's head. You could make their hair any length you wanted. It was pretty ingenious ... maybe it is time for a come back. I don't think there is anything like that now - and they were sooooooo pretty! I probably wanted to
be
Velvet!
;)
And speaking of the Carpenters .......
For a little while Leslie was a member of the Carpenters' fan club. One year she got this Christmas card from them.
(I am such a groupie.)