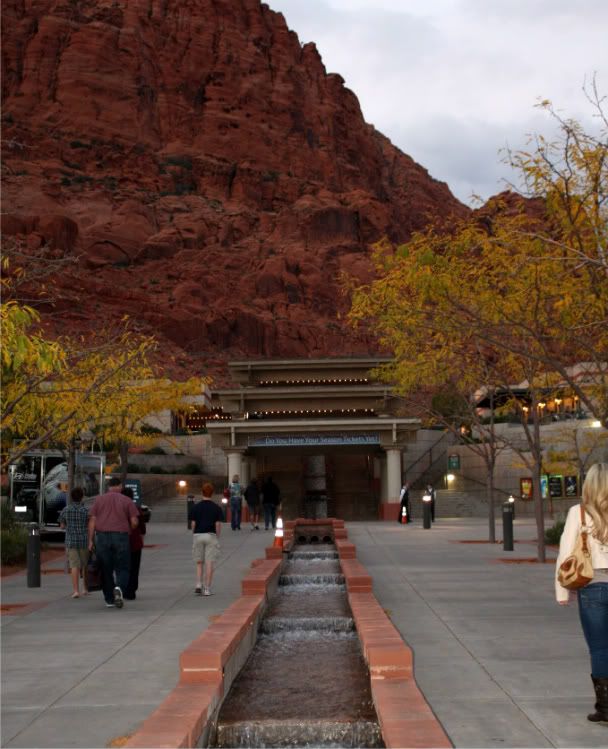 There is a beautiful outdoor amphitheater nestled deep in the red rock mountains of Southern Utah called the Tuacahn. My extended family had a reunion down in St. George about ten years ago and that was the first time I had seen a production at the Tuacahn theater. We saw "Oklahoma" and I don't think there could have possibly been a better setting for that play .... especially when Curly came riding down the back mountain on horseback singing, OOOOOOOK - lahoma where the wind comes sweepin' down the plain!
That is just one of the many attributes of this theater. Chloe was in their summer productions two years ago when they put on Footloose, Annie, and Aida. My favorite of the three was Aida, and one of my favorite parts of that show was when water came thundering down the mountain and flooded the stage so the "Nubians" could dance in the river. It was quite spectacular.
Once the summer season ends, the Tuacahn has other artists come and perform concerts into November. One of the traditions is to have the Odyssey Dance Company perform their Halloween show, Thriller. I have seen it once before here in Salt Lake, but this year, Haley, Sophie and I went down and saw it at the Tuacahn. It runs for one week - just before Halloween.
The night we went it was cool and cloudy and windy and drizzly and spooky and pretty amazing ....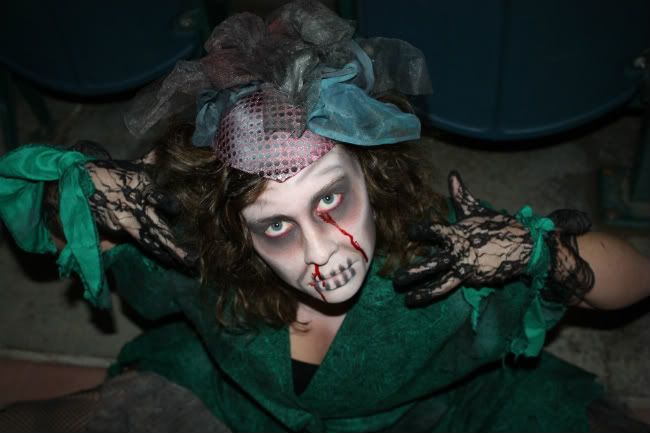 She had gone down to visit her partner in crime and BFF, Trevor, a couple of weeks ago to see this years productions of
Grease
and
The Little Mermaid.
(Chloe and Trevor actually met during her junior year at the Tuacahn High School of performing arts.) The Odyssey Dance Company happened to be holding auditions for extras/dancing Zombies while Chloe was there, so she decided to try out.
Chloe and Trevor both made it and couldn't be having more fun. (Except that by day three, their poor little faces were raw from the nightly makeup removal.)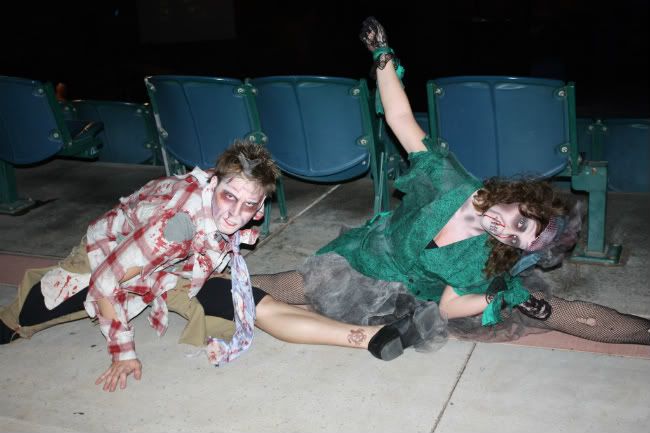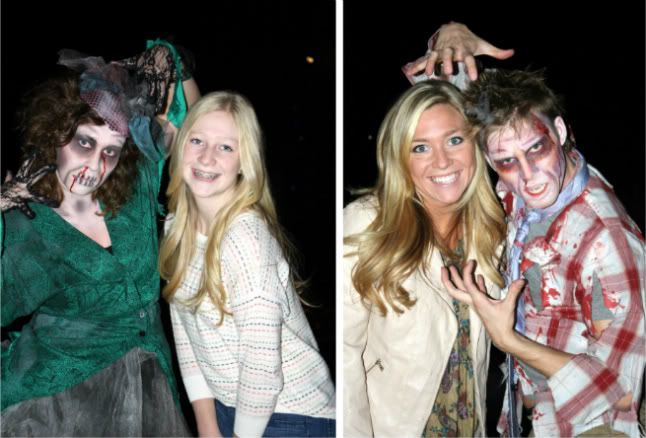 The Zombies walk around among the crowd before the show, during intermission, and after the show and then dance the finale number of
Thriller
with the cast. Some of the Zombies are all up in your face (which I do NOT like), or they stay by your side far too long, making you extremely uncomfortable.
Chloe was my favorite Zombie. She didn't do that. She would just appear in really random places, minding her own business, but making sure she was noticed.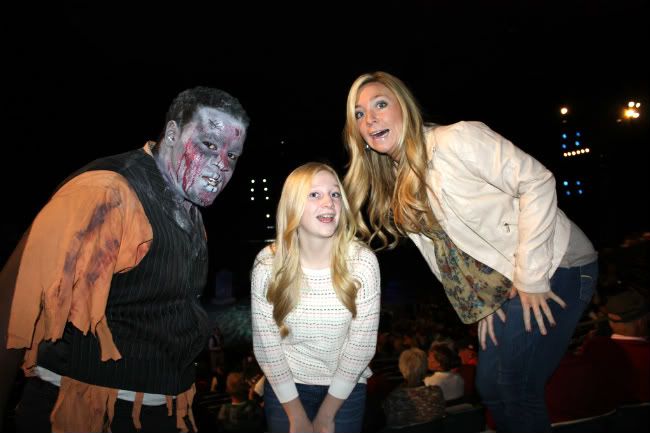 She was definitely noticed.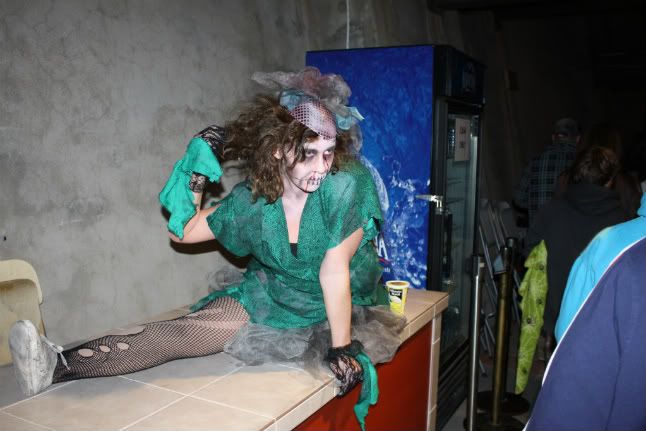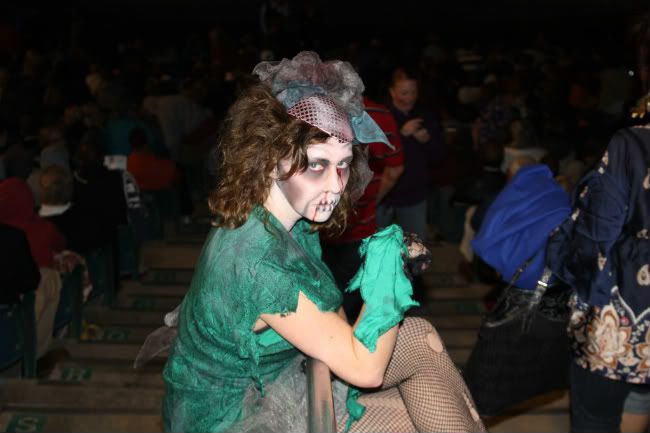 Obviously, being a Halloween show, most of the numbers had a twist of the macabre side of Halloween .... like the one where Frankenstein and his bride are wheeled onto the stage on their tables. They both arise and start dancing a ballet number together until Frankie breaks his brides neck and the rest of the number is performed with her dead, being flopped around on stage like a rag doll.
There is an Egyptian number where princesses are dancing and then the mummies come to life and join them. (Real camels walked across the stage during that number ... way cool.) There is a number where a group of students all gather in a circle to tell ghost stories in a corn field. The scarecrows come alive and attack the students with machetes ... some survive, some don't.
My very favorite number was when eight dancers came out to perform a Riverdance. The dance is going along spectacularly (I love Riverdance) and then a sniper shoots and kills one of the girls. Chaos ensues among the dancers, but only for a minute. The music is still playing and the show must go on. One by one, the dancers get shot until only one remains. As she is taking her final bow - DOWN she goes. (It is actually really funny because the sound effects as the shots are fired are like the clanging of the metal in the duck shooting range at a carnival. I thought it was very clever.)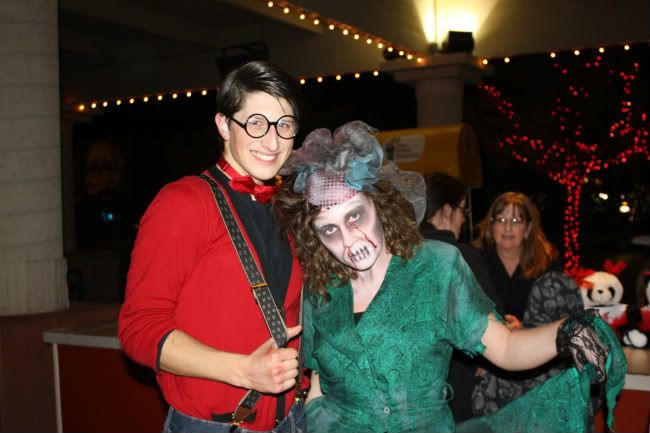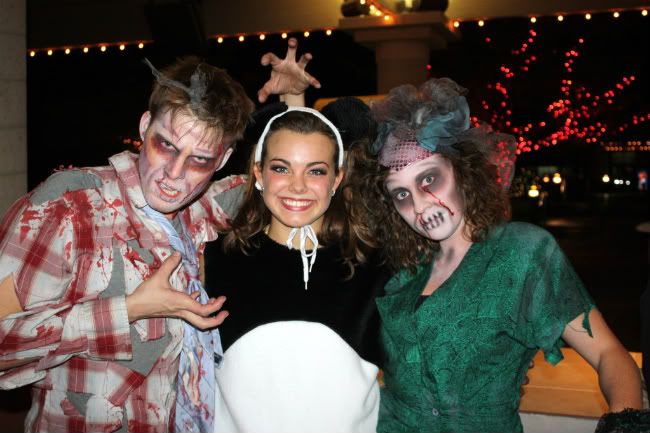 I thought it was thoroughly entertaining ....
And speaking of Zombies ....