My kids and I love the group,
One Republic.
When I told them that they were going to be doing a post game concert at an upcoming Real Soccer game they got soooo excited! Especially Haley. She said, "Mom, I have been dying to go to a Real game, can we please go as a family?"
We went as a family. (And I didn't even have to buy the tickets ... thanks Frank. You're a doll.)
We stopped at IN-N-OUT on the way for burgers and crammed into a little five seater car. It was definitely a night of togetherness and we had a ball.
The game was awesome. The Real team won. The score was zero to one.
Professional sporting events are always so much fun. The energy in the crowd was awesome.
There are some
serious
Real fans ... we got a kick out this guys shirt. We sat in section 26 too. I am guessing he must be a season ticket holder!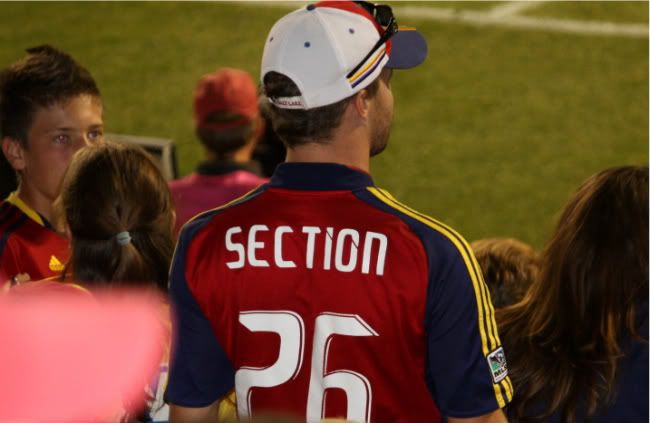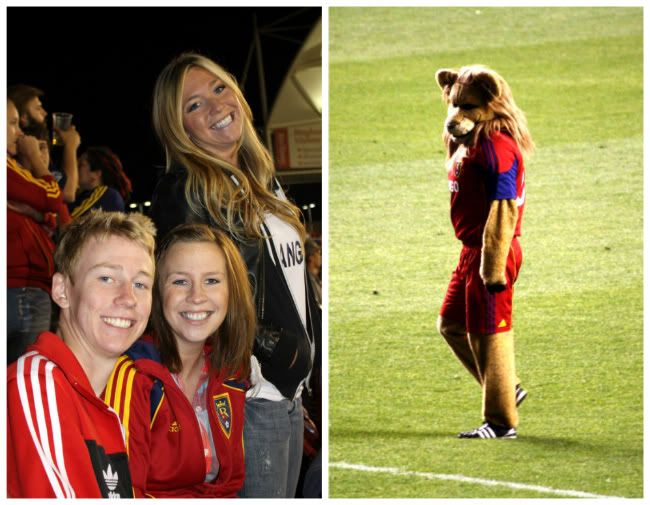 After the game, they announced that you would be able to stand on the field for the concert if you wanted to. Of course my kids wanted to. McCall and I, not so much. So Haley, Chloe, Elliott and Sophie waited with the rest of the crowd ready to run for a good spot in front of the stage.
When the announcer said it was time to let the crowd on to the field, my kids held hands and made a run for it (even though the announcer also said, Please do not run across the field. Everyone ran anyway and there was NO way of stopping them!) I thought it was absolutely adorable. Definitely something that made this mommy's heart smile.
There were so many people that McCall and I lost sight of where they went. I told McCall to send a text message and have one of them jump up so we could tell where they were ....
Oh my gosh, when we saw Sophie we laughed so hard! And then Chloe texted us back and said that she was going to jump up too.
I told them to have Haley do it so I could get a picture of her .... Oh, oops ... cotton candy man got in the way ...
"Tell Haley she has to do it again."
THERE SHE IS!!! We laughed again. It was just so funny to see them.
Shortly after the concert started, I told McCall that I had changed my mind and was going to go down on the field so I could get some pictures. How could I not, right?
McCall sat all alone during the show, which she wasn't completely thrilled about.
Mom, I didn't know you would be gone the whole time.
(Sorry about that Bug.)
She did join us on the field for some jumping though. (
Gotta
get those jumping pictures.)
Chloe was non stop ... I seriously do NOT know where she gets her energy.
The game was
great.
The concert was
fun
. But the
best
part of the event for me was being with these five kids of mine. They sure know how to have a good time. And I am lucky that they don't mind the company of their mama.
(Pretty sure we closed out the place.)
And speaking of soccer ...