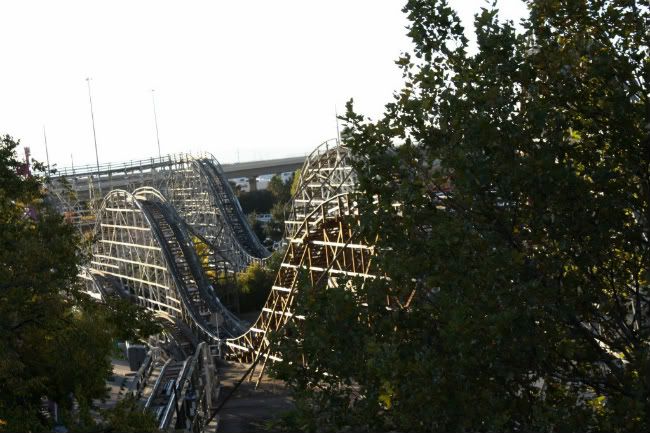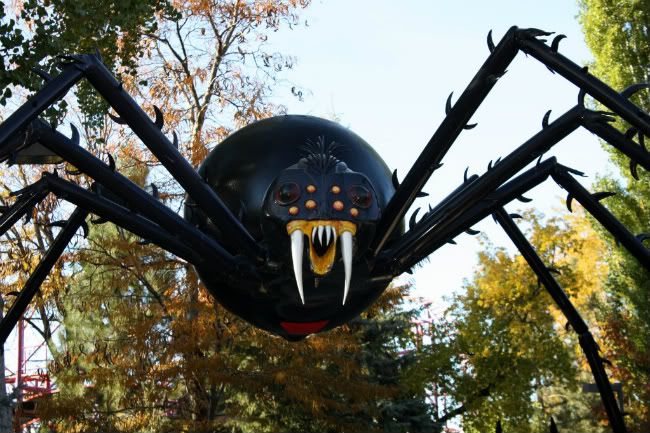 ... I really do love a good coincidence. It turns out that Gray knows Shanlee
who sang with Haley in the girls group "Echo," and Daniel who sang in the boys group "Frequency," because
they
used to perform at Lagoon with Gray. The older I get, the smaller the world gets and the greater the connections grow - it is a little freaky.
Lagoon is our local amusement park. I had only ever been once in the fifteen years that I have lived in Utah. Why? I didn't think I would like it. It looked really cheesy to me. Growing up in Southern California and going to Disneyland about a hundred and two times, I just didn't even have a desire, thinking that nothing would compare ...
that
, and I don't like roller coasters and rides that make me sick. Lagoon is full of those.
It was probably five years ago when I went for the first time during the summer season and I must say, I was pleasantly surprised! I was rather impressed with this little local park and thought it was completely charming. And the thing that I was most impressed with was the talent in the stage shows. I thought it was every bit as good as Disney (dare I say?!).
One of the stylists that works in the same salon with Haley has also sang at Lagoon for at least the last five years. She mentioned to Haley that they were holding an invitation only audition for dancers for their "Hackenslash" show and she would put Haley on the list. Haley LOVES to perform so she took advantage of the opportunity and went to the audition. She made it. So happy.
Sidenote:
When rehearsals for the show first started, Haley didn't think she would make it. She said they are in full costumes with boots, gloves, masks and wigs and they dance with
real
chainsaws. She said the chainsaws weigh 18 pounds. And then she showed me some of their dance moves ... I didn't think she would make it either. But so far, so good - and they kind of blew me away when I saw their show for the first time. I had no idea how entertaining it would be, how complicated the choreography was, or what a fun variety of songs they would dance to. (Katy Perry's California Girls is my favorite.)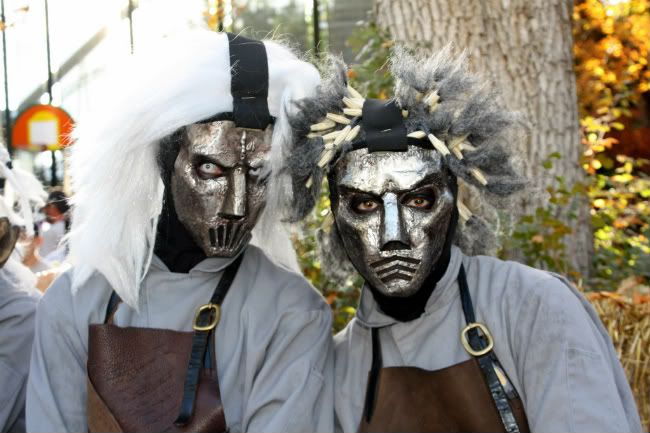 (Haley is on the right ... creepy, isn't it?)
The regular summer season for Lagoon ends at the beginning of September. The park closes for a few weeks and then reopens through the month of October for their
Frightmares.
I thought they did such a cute job (relative word use there) of revamping the park into a spooky fall festival. I especially got a kick out of the tombstones.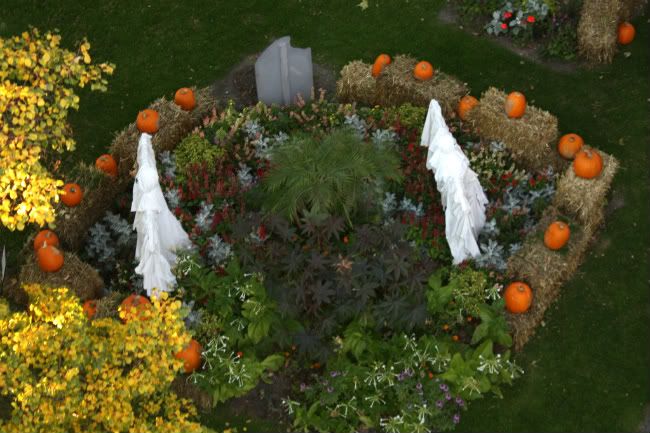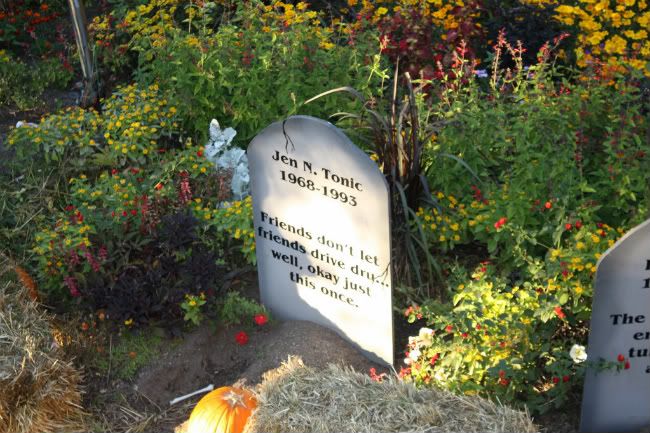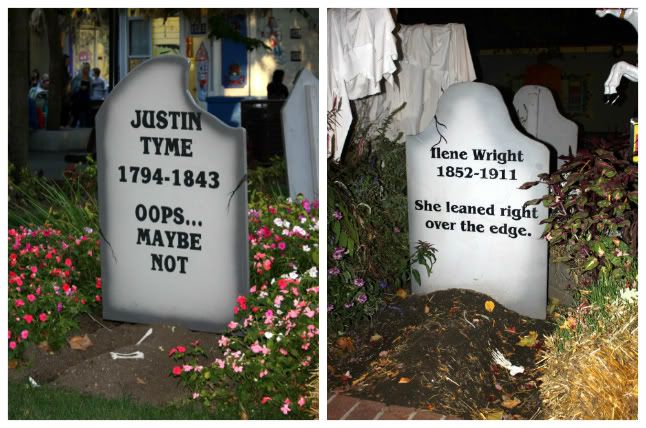 Libby was loving it too .... until it got dark ... and the chainsaws started. How do you convince a two year old that the person underneath that scary mask and wig is her Auntie Hee? (You don't ... you just keep your distance.)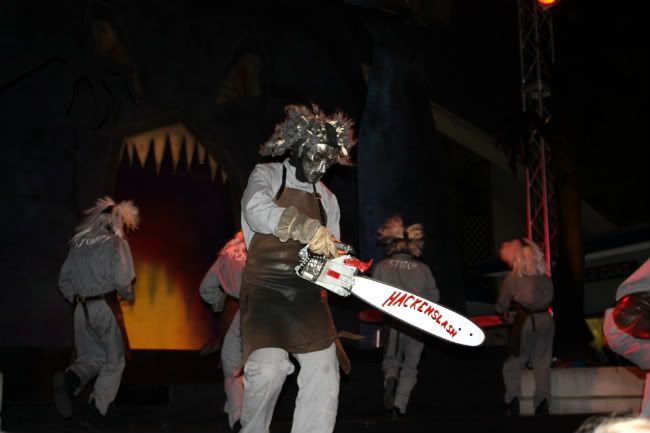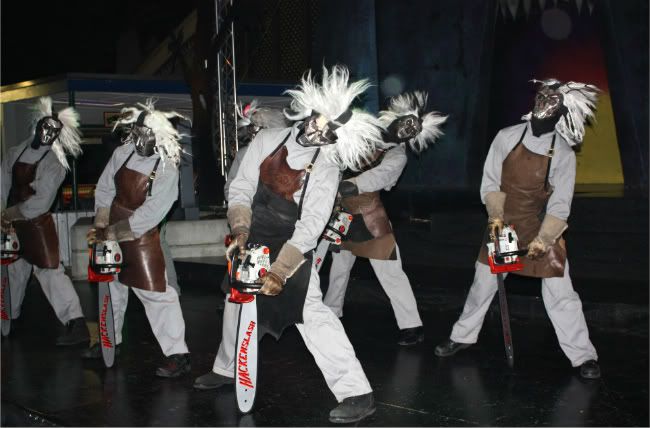 The Hackenslash dancers were the opening number for both of the stage shows. Once they danced a few ...
theeeeeen
Libby LOVED the singing and dancing ...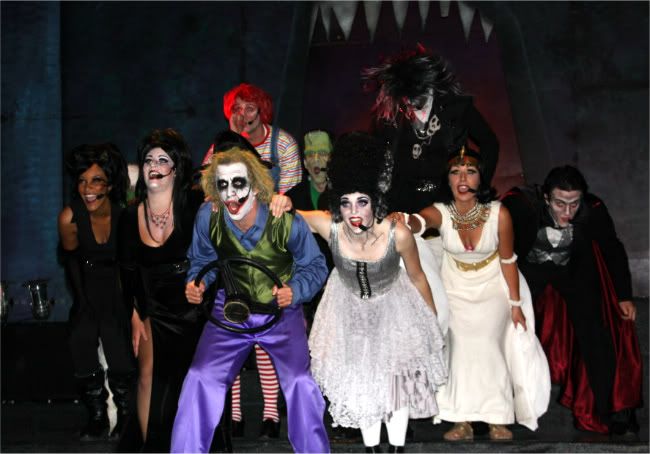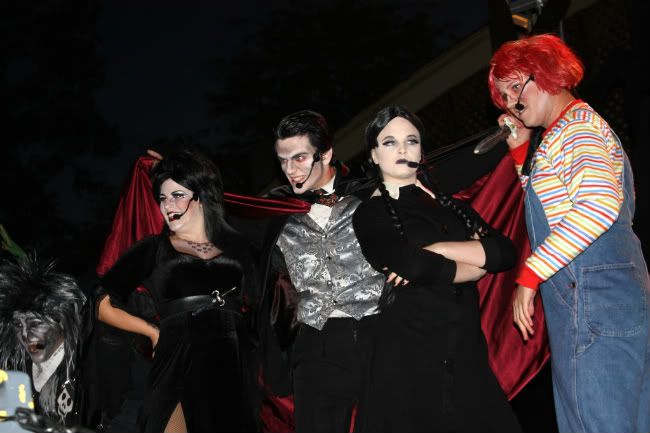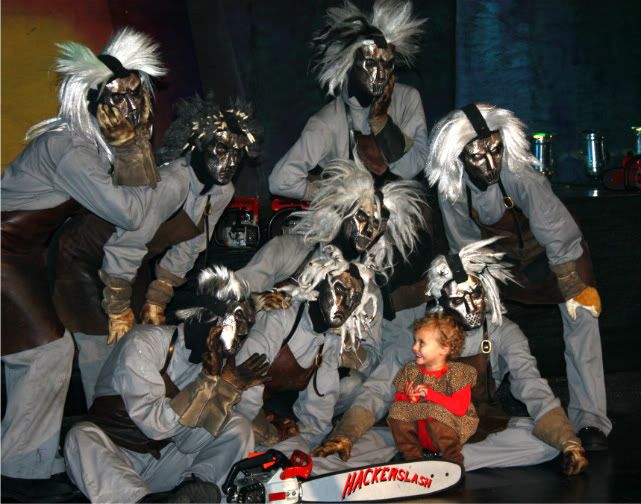 (This little baby , on the other hand, knew which one was her mama.)
As for me ... I loved all of it ... but especially watching the Hackenslash dancer wearing the darker wig!
;)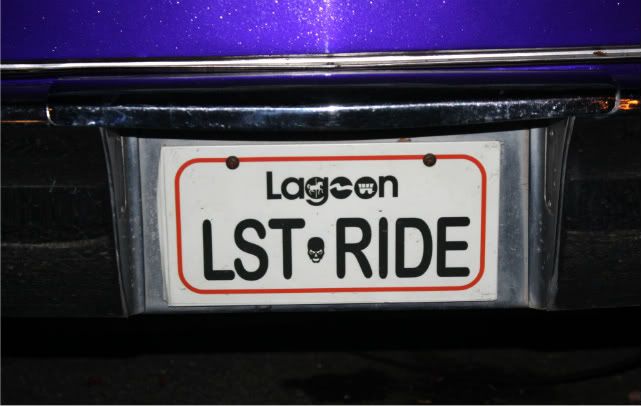 And speaking of creepy stage shows ...