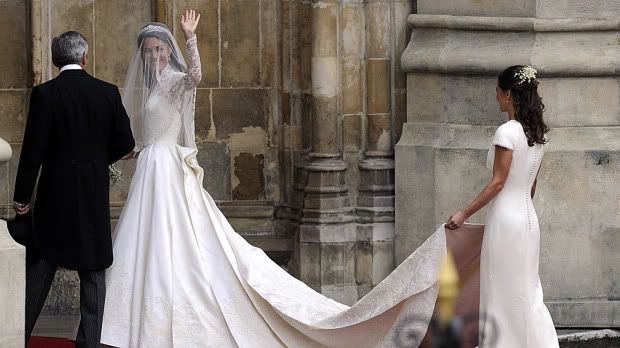 I knew that all things Royal Wedding would be featured on lots of blogs this morning and I was right.
However, I am sad to say that I have seen very little of any of it. But how stunning is
this
?
One of my cute readers, Libbie, posted that she and her little girl (complete with a princess crown and veil) went over to her sister's house in the middle of the night to watch the event together. How fun is that? I have lots of daughters and lots of sisters - why didn't we have a party? Shoot. (Oh yeah, I work ... big frown.)
We did TiVo it though, and I do plan on watching it, and I will love all of it, just like I did when I watched Lady Di marry Prince Charles. I SO remember that day .... which reminds me of that post I did quite some time ago about wedding dresses .....
Hmmmm.
Do you remember that? I wanted you to send in a picture of you in your wedding dress (yes, that means you, and you, and you too) and tell me why you chose it. So here is another excuse to reminisce about that special day! And June is coming up too - how does that song go about June Brides? Another perfect excuse reason to share the bridal LoVe!!!! (It'll be fun.)
Go to my "view profile" - click on my "email" - write a little wedding dress story - attach a photo - hit "send" ... you'll be glad you did! (I will be soliciting too.)