Now, before I get completely off the subject of the Biltmore House,
do you remember how I ran into that lady in the parking lot of McDonald's the day before I left for Tennessee? I happened to think her license plate was cute, but missed getting the picture of it because my camera was full? And she was the one who suggested I go to the Biltmore House in the first place?
Well, after I missed out on getting that picture of her plate, I called McCall to vent my frustration and she said, "Mom, maybe she goes to McDonald's a lot too and you'll see it there again." (How's that for a cute, optimistic response?)
Guess what? That little girl of mine was right. Because the day after I got home, I drove through my Mickey D's on my way to work, and as I was heading out of the parking lot that same plate was right in front of me leaving the parking lot too. And as tempted as I was to follow her - I didn't. I thought,
You know ... I already blogged about it, I already explained how I missed the picture. It's okay.
And I let that little car drive away from me.
AND THEN ...
the morning after
THAT
, as I was driving through the parking lot heading toward the drive-thru, LO and BEHOLD - yup, no kidding, there was that little silver car parked in almost the exact location of the first sighting, and I just had to stop. I parked a few spaces down and walked into that McDonald's to say hello.
As I approached her table, she looked up and me, I said, "Do you remember me? I met you the day before I left for Tennessee and we talked about the Biltmore House?"
And she said, "Yes I do! So did you end up going to see it? Wasn't it just beautiful? How was your visit with your girls?" And then Connie and I had a nice long visit about Asheville, and leaving my luggage, and the Biltmore and the Tennessee Shindig show and her daughter's recent divorce and being single and ....." She is a darling, darling woman.
She asked if we had eaten at the Biltmore and I said, "Actually no. We had heard that we really needed to go to the McDonald's right by the Biltmore because it was pretty fancy."
And it was ... definitely the swankiest McDonald's I 've seen: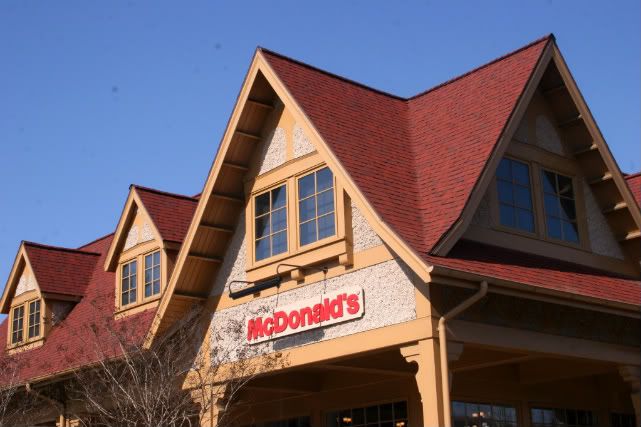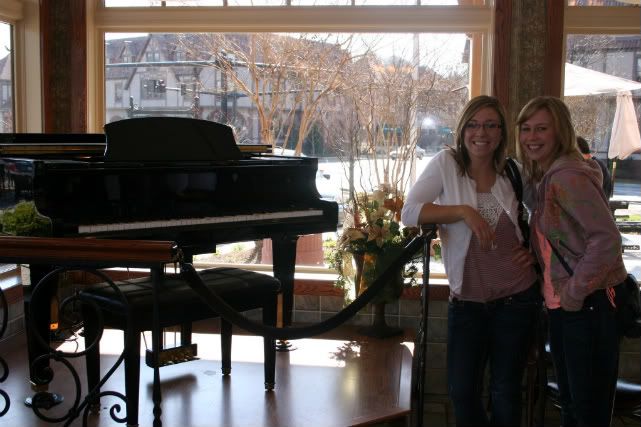 (Complete with player piano.)
(Oh, and of course I got the picture of the plate this time.)