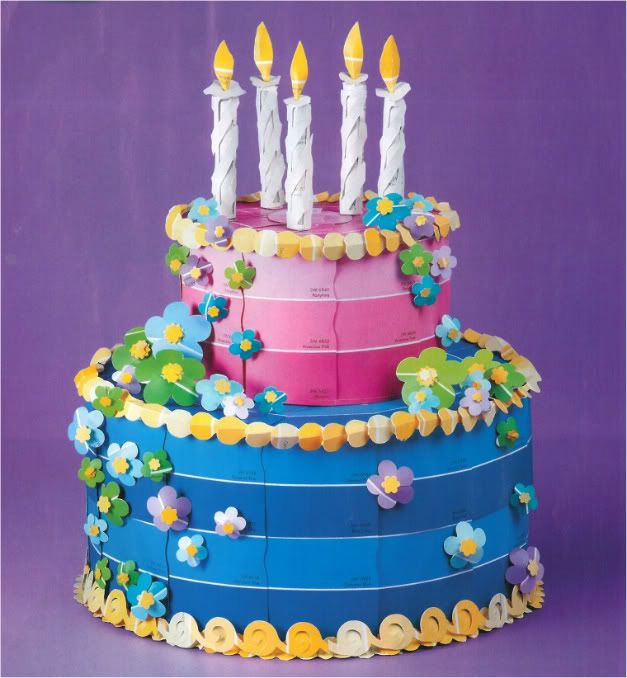 (I am totally crazy about these Sherwin Williams paint swatch sculptures.)
So today is my little Hee's birthday ... again, already. I had just dropped her off in Tennessee for a year at this exact same time last March and now she will be heading home in just two more weeks. Sigh.
Here is what has been fun for me about today. I pulled into McDonald's this morning for my diet coke on my way to work. I noticed that one of the cars in the parking lot had the license plate: WER4BYU. That's a pretty darn cute one, right??? So I decided to go past the drive thru and head back around to where that car was so I could take a picture with my cell phone.
As I pulled back around the building, a lady, apparently the owner of the car, was walking towards it. Shoot! Now what? (I don't know how people feel about having a stranger take a picture of their license plate. I try to get my pictures veeeeeery discreetly.)

Sidenote: But that does remind me of the time I was with Sophie and her friend, Makayla. We were on our way home from a school function, it was nighttime, and I noticed that the car in front of us at a stop sign had the plate:
I saw that and said, "Oh my gosh, you guys, look at that plate - Love Everyone. I need a picture." So we started to follow the car. It was pretty close to our house. We were on the main street that runs alongside our neighborhood. That particular street is fairly dark, the speed limit is 45 - and that car was alllllllllll over the road. I thought, this guy is either drunk or really, really tired. The car was swerving and going pretty darn fast.
Now I guessed that the owner of the car probably didn't live too far from where I did, and it isn't like I was going to follow him all the way to his house (well, maybe not), but I was hoping he would turn into the gas station which was just a little bit further down the way which would then make it a lot easier and more convenient to get a picture.
As luck would have it, that car did pull into the gas station down the road and I thought, there's my photo op. So the guy pulls into a parking space in front of the Redbox and staggers out of the door. I approached him and said, "I love your license plate, do you mind if I take a picture of it?" He said he didn't, stumbled back against his door and then opened his door to get the front plate from off of his dashboard too.
Then, in his drunken stupor, he walked to the back of his car with me and held up the second plate and just kept on mumbling about how I should take a picture of both of them together and how his wife and he had the idea and isn't it just so fun and his kids love it too ....
And then I thought, Dude. You should soooooo be concerned right now that I am not taking a picture of this to turn into the Draper police department to report you for drunk driving. (And maybe I should have, but I really hoped that he lived just up the street and would get home in one piece.)
So,
back to my other story about having to ask permission to take a picture ... Here was this cute little lady coming out of McDonald's in the raging wind this morning and a stranger (that would be me) rolls down her window and says, "Your license plate is so cute, do you mind if I take a picture of it?"
And then she said, "Oh not at all. We love that plate. We moved here from Tennessee about 2 and a half years ago and we had that same plate there. Then we came out here and were so happy that no one else had it already."
Well then you KNOW a sweet little conversation ensued between us about Tennessee and how I am heading there tomorrow, in fact, for one last visit before my girls come home, and how she thinks Pigeon Forge is just the cutest, most fun little resort town, as is Gatlinburg, and what fun for them, and since I was flying into Asheville, North Carolina (because it was way cheaper) then I must go visit the Biltmore Mansion and did I know that that was where President Obama vacationed with his family, and how it is really a great place to go if you have money and it is just soooooo beautiful and one of her favorite places?!?!
The sad thing about this story is that I did get out of my car, in the raging wind, and took a picture of that plate. I heard it click, I thanked her and said goodbye, and then I couldn't find it on my phone. My photo memory must be full and it didn't save. And then I drove out of McDonald's without my diet coke because I had gotten a little distracted.
Oh, silly, silly me.