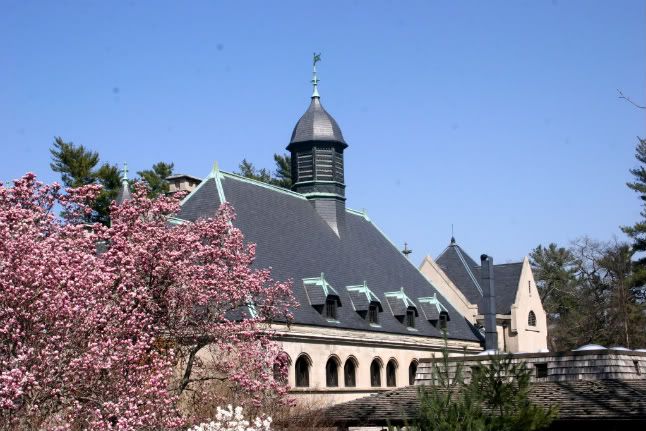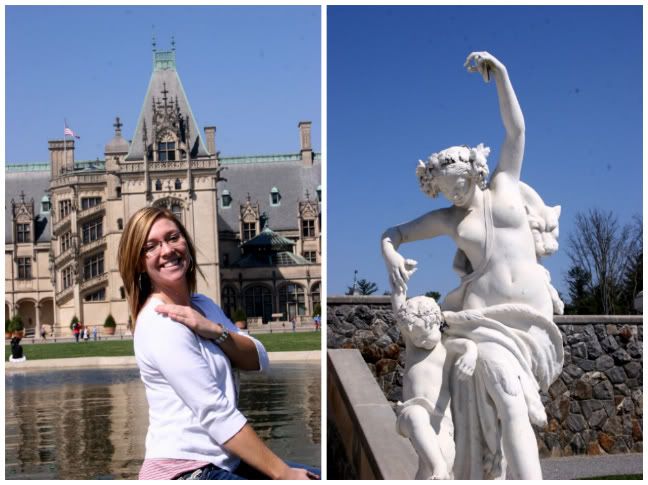 So Haley, Chloe and I made the 2 hour drive back to Asheville and debated about going to the Biltmore House.
We heard that the admission tickets were $39.00 each so we were actually indecisive as to whether or not we would go inside. We thought we might just drive by and take a few pictures ... until we got there.
No chance at all of seeing that house without a ticket. The grounds are so expansive and it is surrounded by rolling hills that unless your means of transportation is a helicopter, you need a ticket. We bought tickets. (It felt like a hike at girl's camp just getting from the parking lot out into the wild blue yonder of Biltmore-land.) The place is pretty spectacular and I don't think there is anything else like in the whole country. I can only imagine how fabulous the grounds look in full Spring color - or at Christmas time when they completely deck the halls.
They didn't allow photographs to be taken of the inside of the house but it was out of control amazing. I am always blown away by the craftsmanship and detail of these old structures which were built before our modern machinery. Just a little bit of a background on the house - On Christmas eve in 1895 George W. Vanderbilt officially "opened" the Biltmore house. Three years later, he brought his bride Edith to Biltmore, and in 1900, their only child Cornelia was born there.
George died in 1914 and Edith remarried the Honorable John Francis Amherst Cecil ten years later. Edith and her husband lived and entertained in the Biltmore house. In response to requests to increase area tourism during the Depression and to bring in money to preserve the estate, the Cecils opened the house to the public in 1930.
Vanderbilt's grandson, William A.V. Cecil, owns Biltmore today and it is still a family run business. Along with 1800 employees (can you believe that? 1800?), they continue the preservation of this national treasure.
We were really glad that we decided to go. We had such a fun time .... my girls are pretty silly, but SO fun to be with!
(I tried to jump too ... didn't have the same high, happy results!)