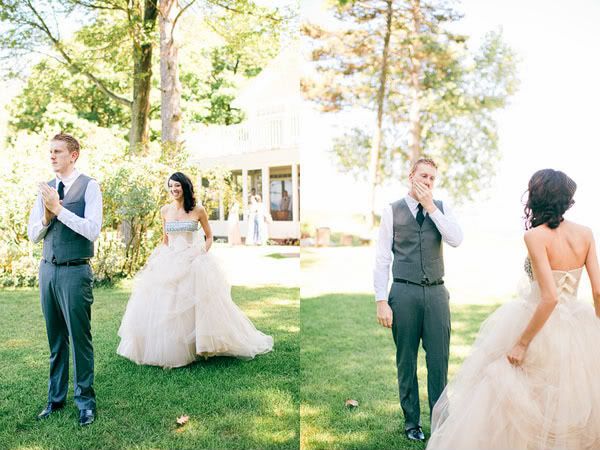 Sophie and I love the show Say, Yes to the Dress on TLC. If you aren't familiar with it, the show follows brides-to-be as they shop at Kleinfeld Bridal in New York City looking for that perfect dress to wear on their wedding day. Some brides come in with pictures of the dresses they would like to try, some describe the style that they want, and others want to try on everything. But what I love so much about this show (besides Randy who is their fashion director and really knows his stuff), is when a bride puts on a certain dress, the consultant asks, "Is this the dress?" and then the bride breaks down and cries because she knows that that's the one. (I usually cry with her too, like I do whenever I see someone on TV giving birth - I just can't help it.)
When I was getting married back in the early 80's, it was shortly after Prince Charles and Lady Diana were married. I tried on a dress just like Princess Diana's and I loved it! I kind of thought that I wanted it too until the consultant said, Do you really want a dress just like Princess Diana's? So even though it was way fun to have on, I didn't get it. I had also recently been to Marie Osmond's wedding reception when she married Steve Craig (I know, cool huh?) and thought her dress was absolutely gorgeous so I had that style in mind as well. The dress I did end up buying had similar features to Marie's and I really did love it, but I don't remember crying when I decided to buy it ... oh well.
When I was shopping for a wedding dress with my daughter, McCall a few years ago it was pretty tiring. (No Kleinfelds around these parts.) We went to several bridal shops but nothing really stood out to us as fabulous. She didn't really have a particular style in mind so we were just grabbing dresses we thought were pretty and had a few that were our favorites. We had a top three at one store and could have tossed a coin to decide which one to buy - it really was kind of sixes. But that isn't how you should choose your wedding dress, so I suggested we keep looking.
At the next shop we saw a cream colored dress on display in their window. McCall hadn't really thought about cream, but we loved the style so she put it on anyway. As soon as she walked out of that dressing room, we both just knew ... This is the dress! It was really kind of magical. We both knew. It was SO much better than those other three "flip a coin" dresses and she felt like a bride with the perfect dress just for her. And on her wedding day she really did feel like a princess bride.
I saw these pictures of a groom's first look at his bride and thought it was absolutely adorable! How fun for them to have that moment captured like that. Such a cute idea!
Since it is so close to Valentine's Day, I thought it would be really fun to see everyone's wedding dresses.
What?
Yup! I want to see your wedding dress! Remember how I asked you to send me your very favorite picture of yourself (click here to see what I am talking about), and it was super fun?!?! Well we are still a fairly small group of readers so I would just love it if you guys would send me a picture from your wedding and tell me why you chose the dress that you did. I think about how my sister found her dress (you, Les) and it is a pretty interesting story. Wouldn't that be fun to share and hear each other's stories? (Have I convinced you yet?) So take a trip down memory lane in honor of Valentine's Day and maybe it will even help you have a better Valentine's Day because it will remind you why you married that guy in the first place.
(And even if you are single, like I am, it was still probably a good day then, wasn't it?)
So start looking for the photo and hurry and send it to me ... pretty, pretty please ... 'cause I can tell you I would love that. It would be a really great happy little thing! I WILL be soliciting too - that is your warning.



After thought: I will do the "wedding dress" post at the end of the month, so you have a little bit of time to email me your pics. My email address is in my profile! (Please!!!!!)