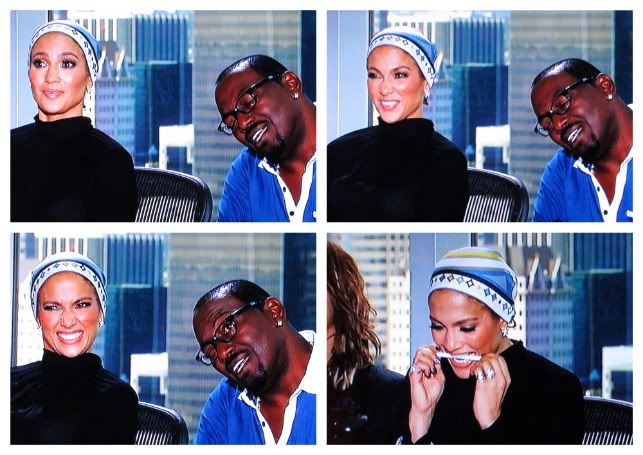 OH.MY.GOSH. Seriously ... oh my gosh! Jennifer Lopez TOTALLY cracked me up last night on American Idol. I kept rewinding the TV over and over so I could watch her expressions again and again and I laughed every single time!!!! I told Elliott to get his camera and that I wanted him to take pictures of the TV when I paused it so I could capture these expressions for my blog. I LOVE her as a judge!!!!
I think America was getting a little tired of Paula Abdul ... okay, I won't speak for all of America, but I was getting a little tired of Paula. I like her, but I was tired of her after nine years. Enter Jennifer Lopez ....
I have always loved J-Lo anyway. She is one of the most beautiful women to me. I love her skin, her hair, her personality, her movies .... although last night's outfit (turtle neck and turbin???) will probably end up in the pages of the tabloids with the caption: What was she thinking? But she seems like a real sweetheart.
Randy? I think that Randy is trying too hard to be the hard-knocks guy now that Simon is gone and it just isn't working for him. Maybe they needed to just replace all of the judges at the same time - I don't know.
Steven Tyler? I like him. I didn't think I would, I never have before and by saying I like him certainly doesn't mean I condone his life choices or life style, but he seems like a sweetheart too. He tries really hard not hurt people's feelings or be mean (I don't like mean people) and he can get really into a song which has got to make the auditioner feel pretty good. I do think he wears WAY too much jewelry, but the guy has such incredible skin. Come on. His complexion is just beautiful ... it's flawless ... I wish I had it.
(I actually do have his hair though. Mine looks a lot like that if I don't do anything to it only he can get away with it - I don't think I could. Although ... just today, I was talking with Sophie and said that maybe I should go with a bohemian look for awhile to save myself time getting ready. Stop wearing make-up, start wearing loose funky clothes, stop doing my hair ... I could just let it air dry and pull the sides back. What's funny is that whenever I tease her like that, about drastically changing my appearance, she has always said, "MOM, nooooo!!! That isn't fair to us!" This time, she actually said, "I do like your hair that way Mom." And I might have considered really doing that, if I was about 10 years younger. It sure would shave a lot of hours getting ready every day wouldn't it?)