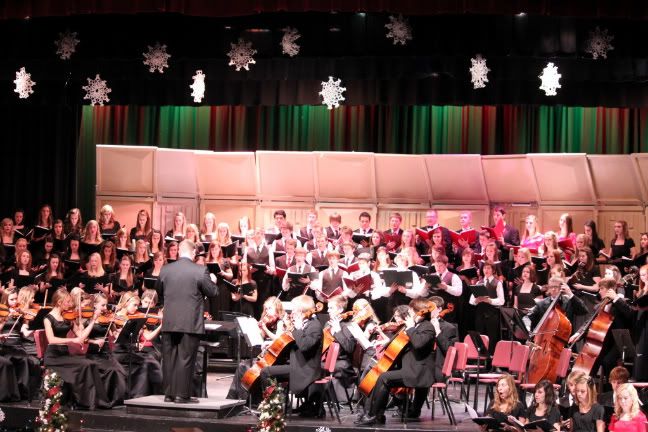 I am STILL having a hard time listening to the radio since they stopped playing Christmas music. I am pretty sure that that is the thing I have the hardest time letting go of after the holidays are over. Hearing Christmas music totally sets the tone for me ... I can't even listen to regular music in my car during the entire month of December. I have stacks of Christmas CDs that really do make me so happy. I usually buy at least one or two new CDs every year to add to my collection.
One of my Christmas music highlights this season was going to the Alta High School Christmas concert. I was BLOWN away at (firstly) the amount of students who were in the orchestra and choirs and (secondly) how amazing they all sounded. My mom and dad were here from New York so they came with me, and my mom couldn't believe it either. Now it is a pretty big high school so there are a lot of students to pool from, but my mom made the comment that "Only in Utah would you find this many boys playing the strings, and this much Christmas music being played in a school." (Apparently a lot of Christmas music is no longer allowed to be played in most schools ... such a tragedy, if you ask me.)
Anyway, Elliott and Sophie had both joined the men's chorus and the womens' chorus, respectively, and it was so much fun to watch them perform. (Especially Elliott - he gets pretty into it ... so cute.) I can't even remember the last time I attended a concert like that at school and I thoroughly enjoyed it. I ADORED their orchestra leader too. He reminded me so much of Richard Dreyfus in Mr. Holland's Opus. I totally would have had a crush on him if he was my teacher in high school.
But the
ho
ttest, most coveted
ticket in town for a Christmas concert this year was this one: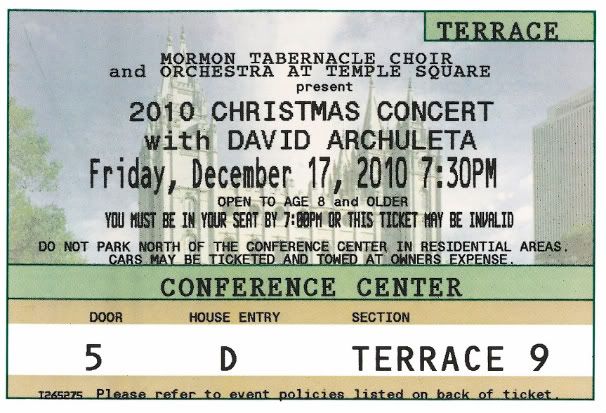 ... and I was lucky enough to get
FOUR
of them and it was

SO

fabulous. Seeing the Mormon Tabernacle Choir live is a wonderful treat in and of itself, especially at Christmastime, but add that talented young man from American Idol fame, and it was the cherry on top of my concert season sundae.
David Archuleta was just as adorable and charming as he could be. McCall and I got a big kick out of him waving to the audience about every four steps he took. T.O.O. C.U.T.E.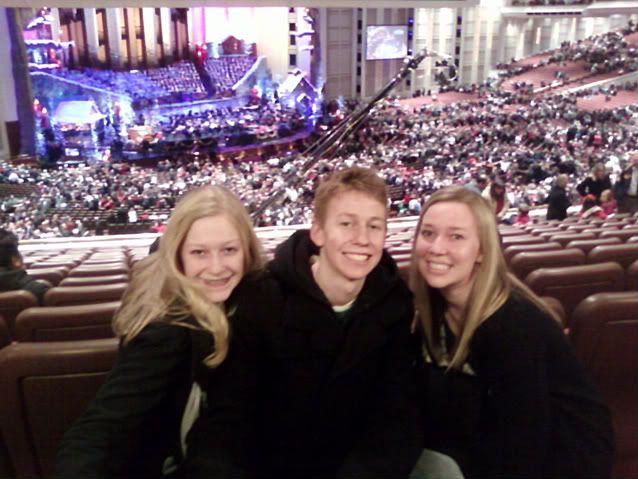 (No cameras were allowed, but everyone was sneaking a cell phone photo afterwards ... shhhh.)