It was icy cold and snowy white up at Sundance ... perfect for Christmas day.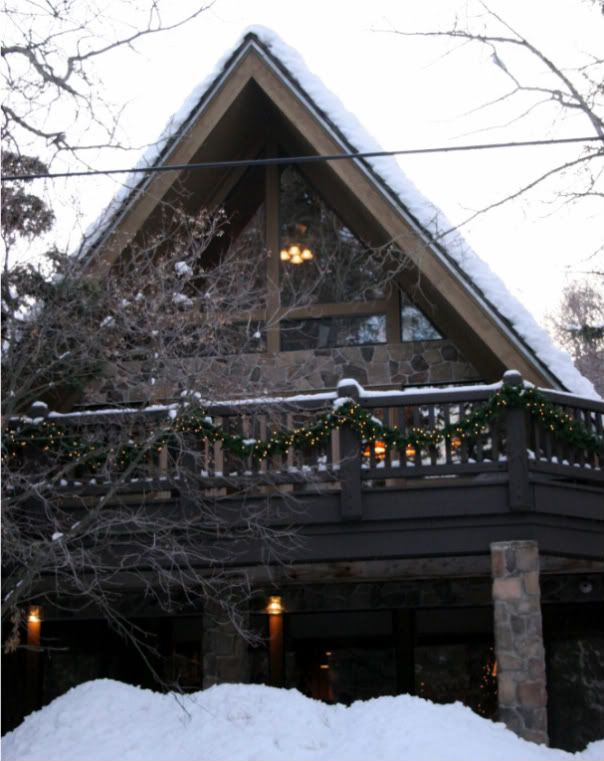 Inside, it was toasty warm ...
The stockings were hung by the chimney with care ...

And brown paper packages were everywhere ...

(Not really. Just going for a little rhyme. The packages were anything "but" brown paper, actually ...)
I am going to guess that it was ....... oh ...... I'd say about ...... hmmm, maybe 15 years ago that all of us siblings showed up at our parents' house in San Juan Capistrano, California one Christmas and went a little crazy for their Christmas decorations.
That was the first year my mother had gathered up all of her Santas she had collected and had them all across the mantel instead of in various places throughout the house. It was also the first year she had gathered stockings for all of the grandchildren, which at that time was also 15.
We walked into their living room and all thought it was one of the cutest things we had EVER seen. That's when all five of us siblings decided to start collecting our own Santas. And although my mom's collection of Santas stopped growing shortly after that, her collection of grandchildren's stockings didn't. She has 29 now (and 6 greats) ... and seeing all of those stockings lined up is still one of our favorite things at their house.
We had a wonderful dinner, lots of yummy treats, a really fun talent show and then a Nativity. There have always been lots of children around to play the parts but I think this year we might have had our sweetest little Mary and baby Jesus yet ....