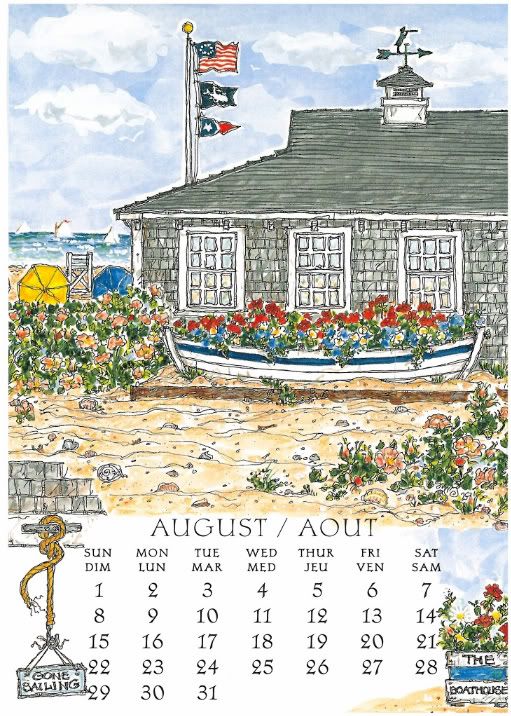 When my parents started visiting Nantucket almost 30 years ago, my mother discovered the whimsical artwork of Susan Wallace Barnes and we have been in love ever since.
Each year my mom has bought us girls calendar cards that sit in a cute lucite easel. Mine sits on my kitchen window sill.
This morning I noticed that I hadn't changed my card from July to August yet. Is it really August 24th? Yes, I have been that busy and that crazy and am on the verge of losing my mind.
I am in the process of remodeling my basement (as I may or may not have already mentioned - I am losing my mind, after all) and this past week Elliott, my brother and my son-in-law brought up most of the furniture from downstairs which included a rather large sectional, a big leather ottoman, 4 wooden chairs, a big TV, a sofa table, two coffee tables and random odds and ends. (Well, actually, that was from one room in the basement - we haven't started to clear out the bedrooms and shelves in the hallway yet.)
Where do you put all that stuff when you already have a full house upstairs?
Well, some of it in the family room, some of it in the kitchen, some of it in the front entry and the dining room, and just put the rest of it in the office (if you can find any floor space) or in the hallway. That's why I didn't notice that I hadn't changed my calendar yet!
So when I got out my month of August calendar card and took a look, (it's always so fun to see what the next illustration is going to be) what I noticed first was the sand and off in the distance the beach chair and umbrellas.
On Sunday I was talking with my friend Vicki, who had recently returned from a vacay to Hawaii ... she said, "So you have a big birthday coming up next month. What do you want to do?"
And without hesitation I said, "I want to go away to a beach somewhere, all by myself, to sleep in, lay on the sand, read, eat when I want, have maid service and do the same thing the next day and the day after that. Oh, and maybe get a massage everyday."
I'm gonna.