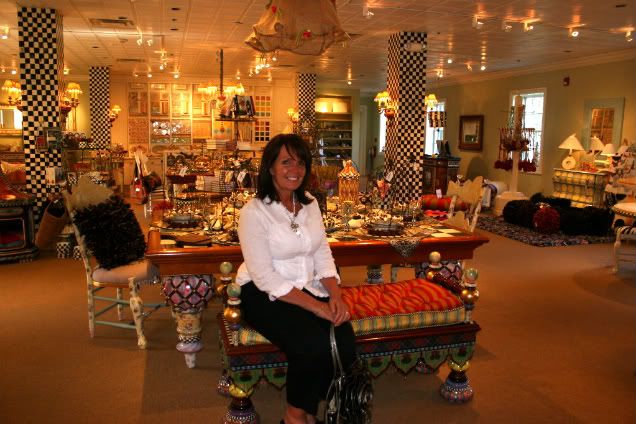 SO ... up the road from the village of Aurora is a place called MacKenzie-Childs. The first time I visited MacKenzie-Childs was about 18 years ago on another trip to New York. My mother wanted all of us girls to see their creative, artsy pottery line. It is a company that started simply enough ... two whimsical artists married and began making pottery for themselves and for friends because that is what they could afford, and they loved creating it.

On that first stop, one of my sisters bought ceramic, pastel painted fish that were drawer knobs and I bought a yellow and blue checked plate, with a ruffled edge that was painted pink. I wanted to buy much, much more but truth be told - its a little pricey. (They mostly cater to the rich and famous ... and stores like Saks and Neiman Marcus.)

This last visit, I fell in love with a fabulous, funky bench (not the one Leslie is sitting on up above) that had a hand painted wood frame, a stuffed cushion seat and back that was upholstered in striped and floral taffeta fabric. You know how sometimes you look at a price tag and think, "Even if I did have that much money to spend, I would never pay that much money for this!"
Well, I think if I did have (let's say) Oprah's kind of money to spend, I really would have paid $6,500 for that bench - I thought it was that special. (But then I'm sure I would have had buyer's remorse and kicked myself for being so frivalous and then not really have been able to enjoy it because each time I looked at it I would have felt guilty and thought of all the starving children in Ethiopia or somewhere ... so in reality, I guess I probably wouldn't really spend that kind of money on just a bench. Hmm, now I'm wondering about that - and truly, I may never know, will I?)

So anyway ... another connection to Pleasant Rowland (as mentioned in part 1) is that back in 2001, when she was ready to restore the village of Aurora, she also purchased MacKenzie-Childs, and took them from bordering on bankruptcy to a profitable company again by 2006.

And even though the style and rather eccentric vibe of MacKenzie-Childs may not be for everyone, it is worth the drive to visit their "factory" site which sits on a 65 acre farm with beautiful fields, gardens, chickens, cattle and a retail shop too. It is where lots of artists do the creating now.

We just happened to be there during their annual barn sale ... it was a treat just to be in the barn.