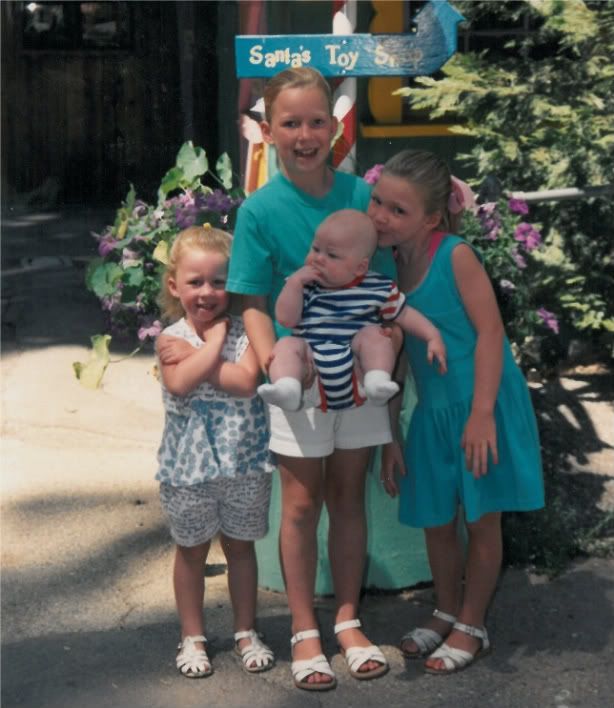 It really has been fun for me to dig through my photo boxes while looking for a specific picture for a post. I just happened upon this one recently and I just held it ... looking at each individual face of these cherubs, thinking about how much joy they have brought me.
I looked at Haley, kissing her brother on the head and remembered how in love she always was with baby boys and realized how indicative that was of her future ... that being, always crazy about grown up baby boys. When Haley was 3 and 4 her uncle Bart always used to tell me, "You are going to be in so much trouble with this one!"
I looked at McCall, barely able to hang on to her big fat baby brother and remembered what a great big sister she always was to those siblings. So patient and conscientious of their feelings and needs. I realized how indicative that was of her too ... what a perfect little mother she has become to her baby, Libby. So patient and loving and concerned.
That little curly headed Chloe. Oh how I just wanted to eat her up at that age! She was curious, delightful and so happy to be there. She lived in a little world of hopes and dreams. She has grown up to be curious and delightful and has held on to those same hopes and dreams.
And Elliott ... he was absolutely my fattest baby and I think my best baby too, at least at that age. He slept well, didn't cry much and never, ever, ever spit up so he always smelled really nice. And he was so smushy and soft, we all just wanted to squeeze him to pieces.
Every summer these kids got new salt water sandals at Nordstrom. I'm not even sure if they make those anymore, but they were a definite staple of summer at our house. They could dress up for church or dress down for the beach ... and if you threw them in the washer, they came out looking like new.
Once Elliott's little square boxy feet could fit into some - his were navy blue.