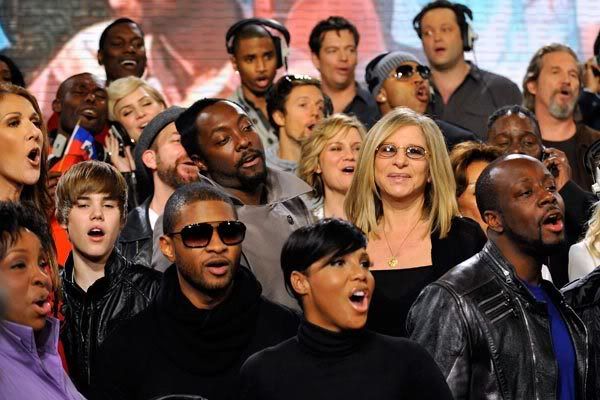 When "We Are The World" was first recorded
25 years ago, I seriously thought it was one of the best songs I had ever heard. I loved the premise of putting it all together too ... Quincy Jones, Lionel Richie and Michael Jackson collaborating to bring celebrities together to raise money for the starving people of Africa. Now they've done a remake of the song for the relief effort in Haiti - and it is just as moving.
After seeing the remake earlier today, I went to YouTube to watch the original again. They featured Bruce Springsteen a lot singing with Stevie Wonder ... I love Stevie Wonder's voice, and Bruce Springsteen never looked better (really sexy mouth in that video! I can say that, right?)
Kenny Rogers sang in it ... back when he looked like Kenny Rogers. Ray Charles sang, Harry Belefonte, Bette Midler, The Pointer Sisters, most of the Jacksons ... I missed Kenny Loggins voice in this new one though - and Steve Perry's (lead singer of
Journey
). He is one of my most favorite voices EVER.
When I was still married, my husband and I went over to Catalina Island for our 10th wedding anniversary. We had hiked up to the Botanical Gardens and were standing in front of the Wrigley Monument having our picture taken. A couple of crazy guys jumped in our photo and said, "Wait, hold on, let us get in it too!"
They smiled, lauged a little bit and said, "We're just kidding!" and jumped back out.
We happened to walk back down the hill right behind them and I recoginized one of them ... I said, "Hey, you're Steve Perry aren't you? You are one of my favorite male vocalists of all time."
He said he was flattered and walked the rest of the way down with us. He asked what brought us over to Catalina and when we said it was to celebrate our 10th anniversary he said, "Really? Did you guys get married when you were 12?" I loved him even more!!!
(I actually heard that Journey recently came out with a new CD. They have a new lead singer who is pretty amazing too ... not like the original ... but pretty darn close because he sounds a lot like Steve Perry.)
So, I loved that they kept Michael Jackson's footage in the new one. That was when Michael still looked like Michael too.
Loved Pink ... loved Celine ... loved Barbra ... loved Fergie ... loved Jennifer Hudson - a LOT of really good talent in this one! I even thought Miley Cyrus sounded good and what an incredibly lucky break for that new little teeny bop heart throb, Justin Bieber - he starts the whole thing off! (How did
that
happen???)
If you haven't watched it yet - you must. It's really,
REALLY
,
REALLY good!
(Well, at least I thought so.)