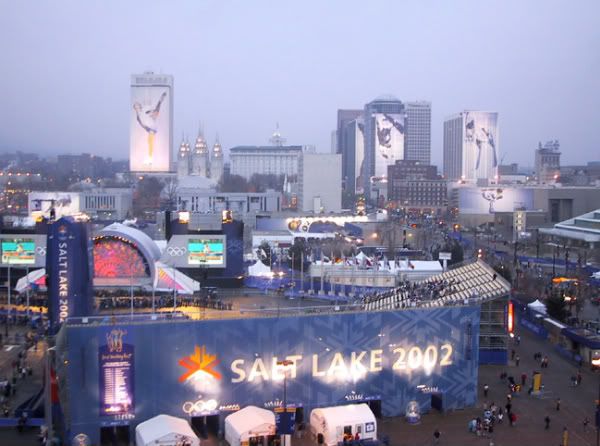 I absolutely LOVE the Olympics!
Both Summer and Winter. I am pretty much glued to the TV during the weeks that they're on. (Really, Polly? And that is different from your normal routine how?)
I was living in LA when the summer games came to Los Angeles in 1984. In fact, I was in labor during the first ever Women's Marathon that year. I was laying in my hospital bed watching the race when the runner in second place entered the stadium. She was clearly in a really bad way and the officials didn't quite know what to do. She was suffering from heat exhaustion and acted completely delirious. She was dazed and stumbling. Race officials went up to her to help put she shrugged them off, knowing that if they touched her she would be disqualified.
She eventually did finish the race, not in second place, but 37th place .... my heart went out to her and I distinctly remember feeling that I would rather be in labor than where she was. It was that crazy.
When the Winter Games came to Salt Lake City - I was ALL over it. When the torch was being passed in town, the kids and I waited and watched the runners. When the torch was lit outside Rice-Eccles Stadium, we went up and saw it. We visited Olympic Square, rode the luge ride they had set up, got inside the huge snow globes, listened to the entertainment ... shy of going to the events we really ate up the fact that they were so close to home.
I got all caught up in the whole Olympic pin phenomenon too. (Anyone interested?) And I even got to hold a gold medal. Men's Downhill. Sweet. (I happened to know a sales rep at the jewelers who made them and she let me.)
I am loving these Vancouver Games. The Opening Ceremonies never disappoint. How precious was Seth Wescott singing every word of the National Anthem during his medal ceremony for the snowboard race? And Lindsay Vonn completely breaking down after winning the gold for hers? So cool - so emotional ... I totally cry right along with them!
I normally love the skating the most ... not so sure after the men's short program, but hey - to each their own, right Johnny Weir/Adam Lambert/Lady Gaga? I do love Evan though ... Vera Wang bird costume? My how times have changed.
But this year - it's the snowboard competitions all the way! Shaun White -
ROCK STAR!
History in the making for sure!