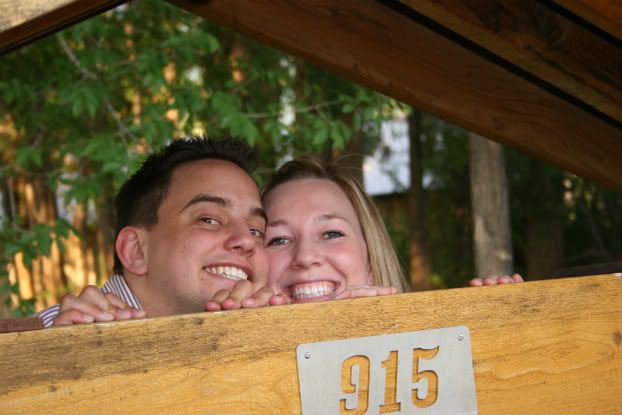 I love Michael Buble.
So suave, so cute, so infectious.
I took this picture of Jared and McCall during their engagement photo shoot. In their wedding video this is the picture that pops up right as Michael Buble's song "
Everything
" starts to play ... and now whenever I hear that song, this is the image that immediately comes to mind and it makes me grin from ear to ear. It's such an adorable love song.
Almost 4 years ago, Michael Buble was coming to Salt Lake City and I really wanted to go. My girls love him too but the tickets were $85.00 each. Ouch. So I told them that I would pay for half of their ticket if they wanted to go.
Well, they all
wanted
to go, but the practical side of McCall thought that was still a lot of money, so she passed but Haley and Chloe said they wanted a ticket. (It went on their list of "money we owe mom." McCall should have come.)
I was dating someone at that time so I bought him a ticket for his birthday present. The four of us went to P.F. Chang's for dinner before the concert. Yum.
Dinner was fun. The girls were acting a little silly. Haley kept talking about this hot guy in a white baseball hat a few tables away from us.
As we left the restaurant, Robert dropped a note to the hot guy in the white baseball hat ... it said something to the effect of,
This cute girl would really like to meet you.
And he gave him Haley's number.
SQUEEEEEEEELS!!!!!!!!
We had 6th row seats ... Michael Buble is QUITE the showman ... and the anticipation of the hot guy in the white baseball hat calling Haley made the concert that much more fun for the girls. There was definitely dancing in the aisles.
It took us quite a while to get out of the parking garage after the concert, but hot guy in the white baseball hat called Haley on our way out and we were all entertained as they chatted .... they had mutual friends. Such a small world. (Such a difference a generation makes.)
I think my favorite line in his song
Everything
is, "And I get to kiss you baby just because I can."
It's so cute. And I like to kiss.
I like to have someone
to
kiss.
I've made Michael Buble's new song "
Haven't Met You Yet"
my theme song:
I might have to wait
I'll never give up
I guess it's half timing
and the other half's luck.


Where ever you are
Whenever it's right
You'll come out of nowhere
and into my life.
It could happen ... right? :)