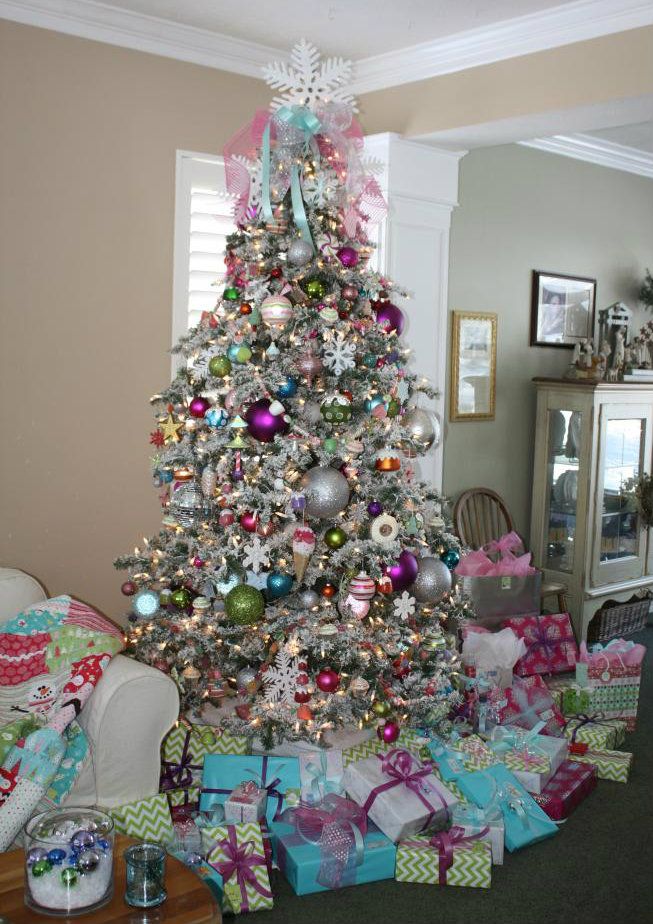 For those of you with young children, who stay up half the night wrapping and/or
assembling
toys for your tots, let me assure you now that it really does get easier. Now that my children are grown, and choose most of their gifts anyway (okay, this year that was only Sophie) and prefer to sleep in - that is exactly what we did this year.
Kay, and I am usually pretty good about filling the stockings with goodies from Santa too, but I'm telling ya ... with your kiddies older, if you haven't gotten around to shopping for all those goodies, it's nice to know that it really doesn't matter much. My kids' favorite candy bar is Reese's, so on Christmas eve, I did (at least) pick up some king-sized candy bars for them.
Christmas morning, when everyone was awake, and the girls were all settled in on the couch for the Disney Christmas Parade, I asked Elliott if he would be a good little Christmas elf and make a McDonald's run for his mama and sisters' diet coke habit, because, believe it or not, our McDonald's had a sign on their window saying that they would be open until noon on Christmas day.
So Elliott (bless his little heart), decided that in the spirit of giving, he would accommodate our wishes.
When he finally arrived back home, we asked (in a really nice tone) what in the world had taken him so long? "Mom. I went to both of the McDonald's close to us and they were both closed. They had put up a new sign saying: Sorry for the inconvenience, but we will be closed Christmas day." (I was actually really glad to hear that because I don't think they should have been open in the first place.) He decided, rather than come back empty handed (because he knew better), he ran to the gas station and got all of us bottles of diet coke and a dr. pepper for himself. Happiness.
You're probably all like me in the tradition of the "before" picture in front of the Christmas tree, right? Everyone has usually just rolled out of bed, no one is allowed to have showered or changed their clothes, or put on make up ... and I always adore that picture!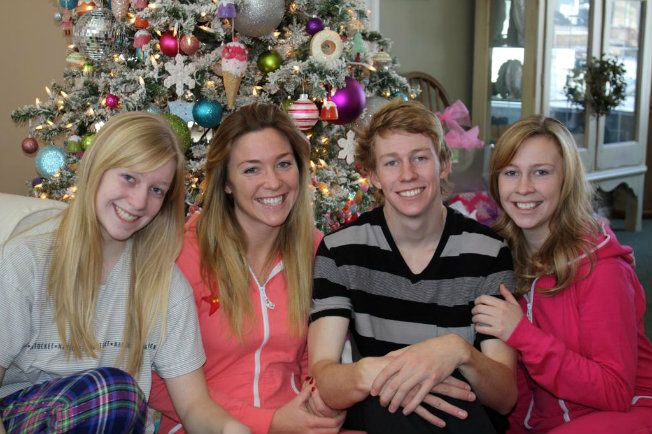 McCall and her little family were spending (early) Christmas morning at her in-laws house and she asked if we wouldn't mind waiting for them to open presents until around noon.
None of us minded one little bit.
With Jared coming home unexpectedly and getting to share the holidays at home - it made Christmas extra special for us. Libby was a new little girl having her daddy around. She was beyond happy every moment of every day and just as cute as she could be, becoming her daddy's constant companion, aka: his shadow.
It's usually the youngest one in the family's
obligation
privilege to act as Santa's helper and pass out the gifts. Libby was in heaven gathering everyone's presents and putting them in a pile at their feet. (Her pile was taller than she was, and no one minded that one little bit either.) She was pure Christmas JOY for us.
Logan
, that stinking cute little baby boy, was just happy to be there - as he usually is ... and Jared, well, you can probably imagine how happy he was to be there.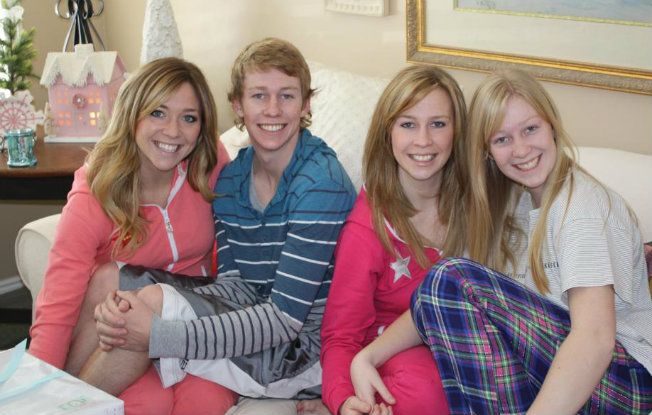 One of the best Christmases EVER. I am one lucky mama.
(Oh, and just to document that I was indeed part of this glorious day ... here is a "not allowed to get dressed, showered or put on make up" picture of me too - doctored up a bit to look less offensive, in a hue that I chose on photobucket because it is called LOGAN. Are you loving my snowflake jammie bottoms with my striped tee shirt? Yeah ... me too.)