One of my favorite things about the Christmas holiday season is Christmas cards ...
getting, and giving.
Anyone who has known me for any length of time knows that about me. This year, it didn't seem like I was getting very many cards in the mail. Every day after work, I would drive up to our mail box, set the stack down on the kitchen counter, and quickly look through it for any cards. Most days, my kids would hear me say, "Dang it! No cards today." Or, "Shoot, we only got one Christmas card today."
Well bless my kids stinkin' little hearts! When it was getting really close to Christmas, they sent me a card ... and then another ... and then another still. It made my heart so happy. First, that they would take the time to go and have the pictures taken, and then take the time to have them printed off into Christmas cards especially for me!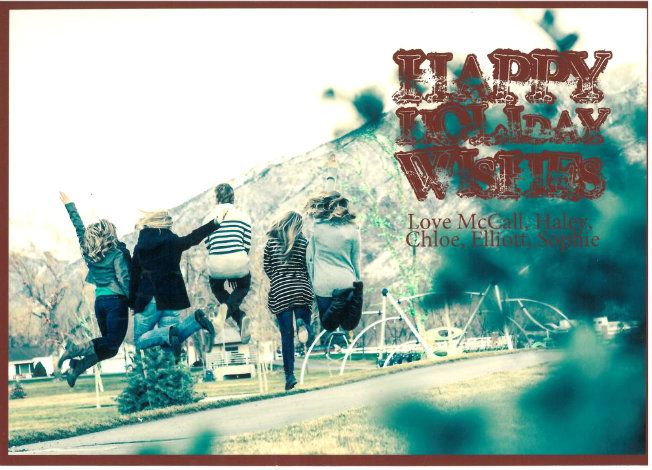 Whenever Chloe and Elliott (just the two of them) have their picture taken together, it usually looks like an engagement photo. That could be partly because they look around the same age (and look a lot alike) and partly because of the way they pose.
This next card was Chloe's idea ...
so funny!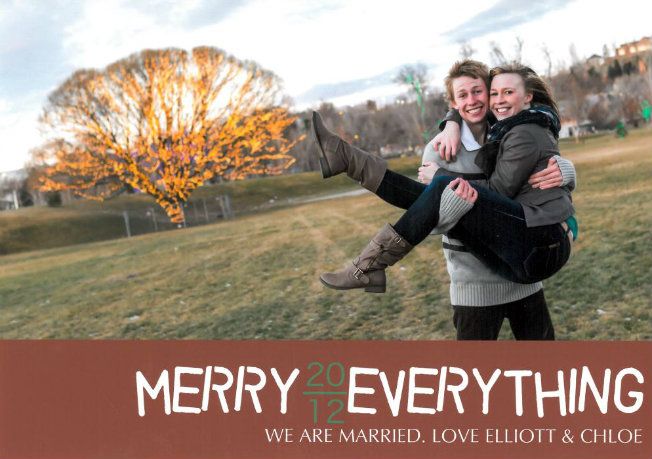 When I renovated my basement two years ago, and brought the big sectional upstairs into our family room, rearranging was necessary, which created one rather big blank wall in that room. I bought five large frames to put pictures of the kids faces in. I knew exactly which pictures I wanted to use of each of them, but was having trouble locating the disc that had those specific pictures on it. BOO.
The kids (and several of their friends) have given me a hard time about those empty frames hanging there for two long years, so I decided that
now
was the time I would fill them. I told McCall that I was going to fill them on Christmas eve and put a bow around each frame as a surprise for the kids when they came down on Christmas morning. Pretty good idea, right?!
Well ............... Christmas eve came, and I still hadn't found those pictures. The girls and I were standing in the kitchen and I said, "I had the best idea to surprise you guys with tomorrow morning, but now it isn't going to happen and I'm bummed about it." And then the girls said they were going to go rent a movie at Red Box and get some treats. I gave them a couple of little neighbor gifts that hadn't been delivered yet and asked if they would take those around for me too. They left and were gone for hours!!!!! It was Christmas eve!!!! Where was my family?!?!?!
When I called them (a couple of times) and asked what was taking so long they had pretty good excuses -
When we went to the Wright's house they invited us in and we stayed for a while to visit with them. Oh, and Wendy gave us a fruit cake ... When we went to the Dieterich's Sophie dropped her phone so we had to go back and look for it, but we're almost home.
When I walked into my family room on Christmas morning .....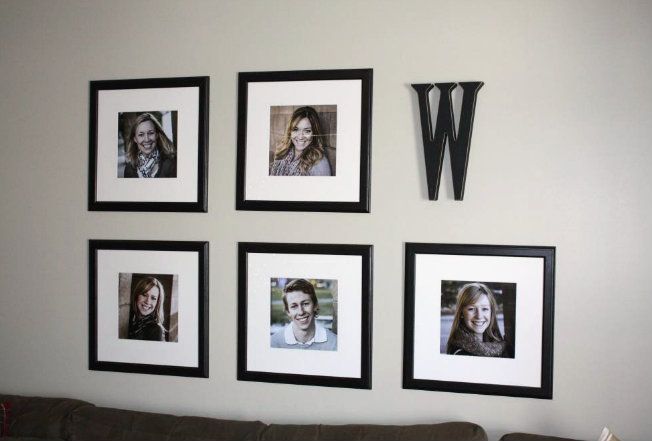 The day they went to the park to take the Christmas card pictures, Chloe had the idea to take individual ones to put in the frames for me. McCall told her that I had already planned on doing that for
them
as a surprise on Christmas morning, but when I mentioned that my surprise wasn't going to happen - the girls went to the studio where Chloe works and printed off the pictures! Then Chloe played Santa's helper and got up at 5 in the morning to fill those frames before I got up.
I wanted to
eat
them all up.