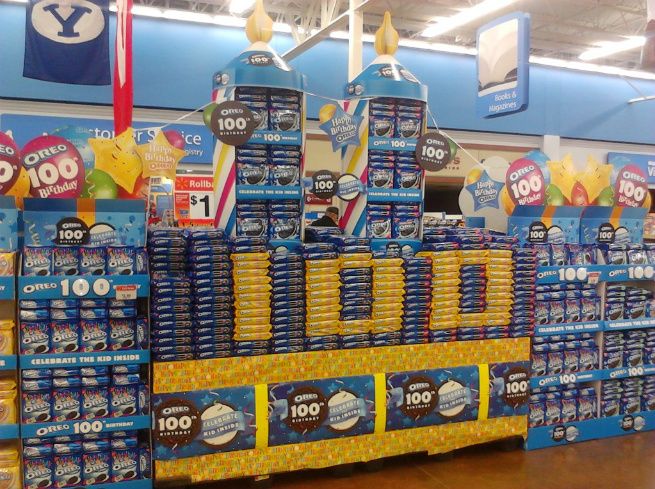 Okay, okay, okay .... so I guess it isn't a secret!
Oreo is celebrating it's 100th anniversary today! (Right on the tails of Dr. Suess too.) I have seen it posted on other blogs and by some of my Facebook friends, but I am going to join the ranks of 'em and give this fantabulous cookie a shout out of my own!
A couple of weeks ago, I was at Walmart with my friend, Vicki. We were BLOWN away by their massive Oreo display!!! (It was almost, but not quite, as spectacular as the
Cuties display
I blogged about.) When we were checking out there were two checkers who had differing opinions about the display. One of them said she loved it and wanted to take the big, HUGE Oreo cookie men home with her when they were done. The other girl said the HUGE Oreo cookie men creeped her out and that she wanted to take scissors to them and pop them!!! They were too funny.
Vicki and I both thought that everything about the display was FANTASTIC and couldn't get over how cool it was and we appreciated how much work went into it ... but we do differ on our favorite flavors. Vicki got a much bigger kick out of the Birthday Confetti variety (although I will admit they are stinking adorable), but since I am such a creature of habit, I still prefer the good ol', plain ol', regular ol' yummy standard Oreo as my first pick from the cookie jar. (Lots of people love the double stuff ... not me. Why mess with a classic, I say. To me, the "stuff" then over powers the goodness of the cookie and changes the flavor.)
I
really
do love Oreo cookies. I rarely buy them though, because it's one of those things where if you do, you just can't stop until they're gone. If ya know what I mean.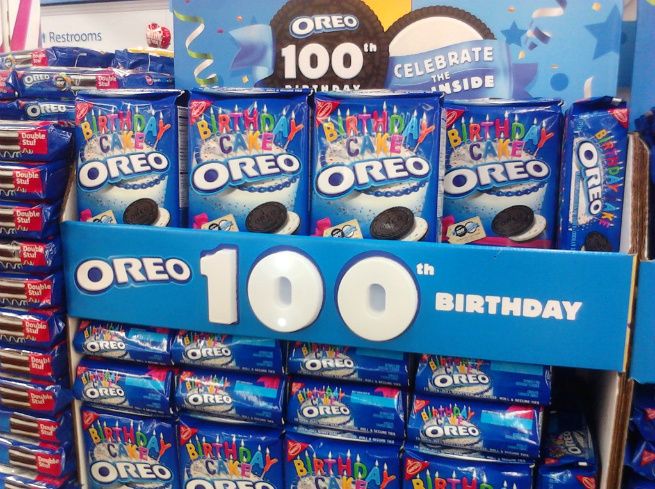 However, I did notice they have some mint Oreos ... hmmmm ... I suppose I ought to give those a try, since chocolate mint is my favorite flavor combination. (I doubt they could compare to the girl scout Thin Mints though!)
:)