St. Patrick's Day came and went at my house without so much as a mention ... but not at my friend Vicki's house! I normally am one of those people that goes a little far out with holiday decorating, but St. Patrick's Day? Do people decorate for St. Patty's Day? Vicki does. :)
She called me on Sunday morning and said she was having some family over for her annual St. Patrick's Day feast, which always consists of corned beef and cabbage. "I want a little Polly touch because you know just how to move things around a little or tweak something here or there and have it look so much better." (She's a nice friend that way.) So I went over to help her "tweak," and it already looked quite cute.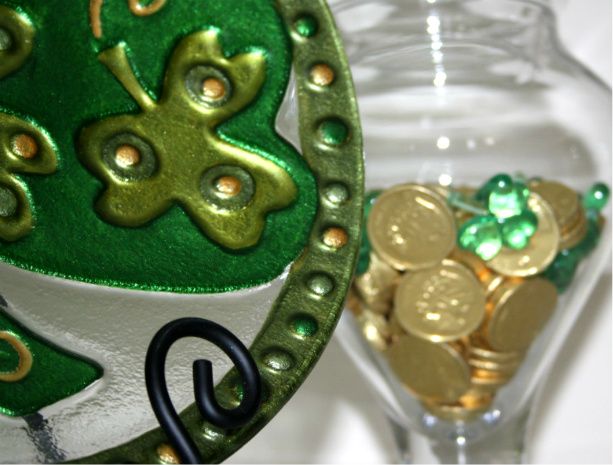 I mentioned that I was having my sister-in-law's family over for dinner too (her birthday is on St. Patrick's Day), so Vicki made
SURE
that I looked festive and "Irish-y" too for
OUR
celebration! She sent me home with the cutest cupcakes ....
And the funnest rainbow jello ...
And the most beautiful daffodils ...
Vicki asked me if I had any canned whip cream. I asked her what for and she said, "I am going to serve hot chocolate later with whipped cream and shamrock sprinkles! Do you have some hot chocolate?!"
She pays attention to tiny little details, that girl!
I guess it was my "luck o' the Irish" that I stopped her house that morning!!!