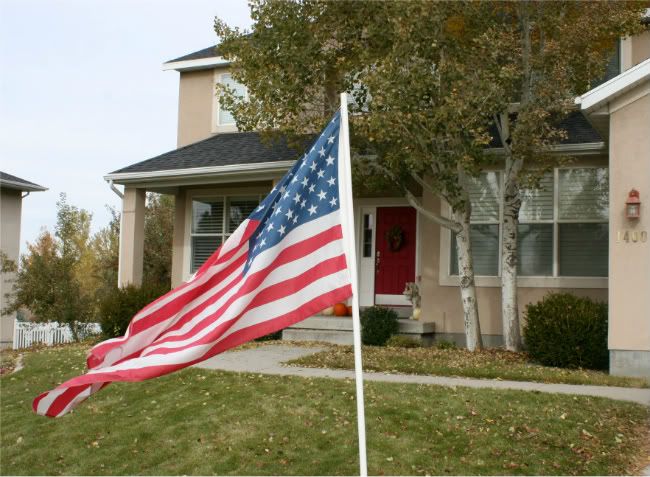 A couple of days ago, I got a message on my cell phone from Sophie's school. The message said that they were having a special assembly recognizing and honoring veterans and those currently serving in the military and to invite anyone we may know to join in the celebration and recognition. I thought that was an awesome idea.
Yesterday, I was having lunch at Smash Burger (which is rapidly becoming my new favorite burger ... can you believe it?) and there was a card on the table offering free sides to all military personnel this weekend. In fact, there are tons of restaurant chains all over the country giving away free sides and fries and all kinds of
guys
to our military all week. It seems like such a small gesture, but it is the continual small gestures that will let our military know how grateful we are to them and their sacrifice on our behalf to fight for our freedom and safety.
As I walked out my front door this morning, I had a flag in my yard. The scouts had come around and placed the flags before most of us even got up. It made me really happy to see that!
Right next to Draper, is the city of Sandy. And every 9-11, on the vast lawn in front of Sandy City Hall, over 3,000 flags are put up in memory of the lives lost in the attacks on 9-11. I know there are lots of "healing fields" like that all over the country and I can't even begin to express how touching it is to see those rows and rows of flags. I make it a point to go witness that each year. This year, 9-11 fell on a Sunday. It was after dark when I realized that I hadn't yet seen the healing field, so Elliott, his friend Conner, Sophie and I took a little drive.
There was quite a crowd ... the flags were awesome ... but this year there was something new. A bronze statue. A replica of those three fire fighters raising the American flag on the rubble after the terrorist's attack. It causes reverence ... I teared up ... I love this country.