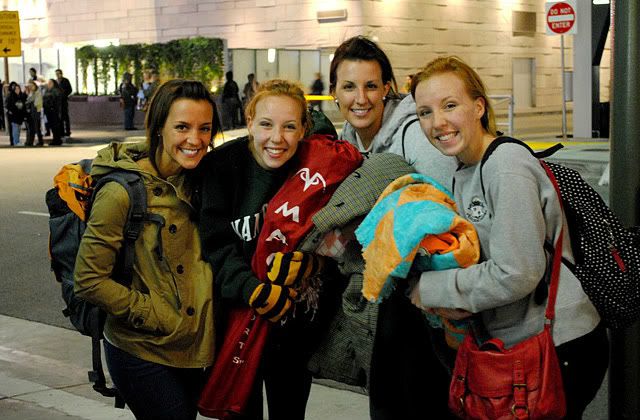 As I mentioned in my last post, my Nelson nieces are die hard Twilight fans (affectionately known as "Twihards"). At our last family gathering they were SO excited because they were heading down to L.A. for the Hollywood premiere of Breaking Dawn. "Yay! We are going down for the red carpet event!"


They didn't really have a plan, but they had the desire and
doggone
it, they wanted to get a glimpse of those Twilight stars! Now, I am pretty sure they were going to be
five
of several hundreds of fans all trying to catch that same glimpse, so I was crossing my fingers for them that they would find a good spot along the fan route.
As it turned out, Yahoo was hosting a big event for the fans who were doing just what the Nelson girls were doing. My nieces had heard there were wrist bands so the first goal was to GET A WRIST BAND! (Wrist bands are always a good thing when it comes to crowds.)
They arrived in L.A. at around 12:30 in the morning and checked into their hotel .... the hotel being their place to shower and hold their belongings. They had heard about "Tent City" so they also had a tent.

Bright and early the next morning, those girls GOT those wrist bands and secured their spot at the premiere .... which was four days later, and said HELLO to their new resting place, TENT CITY!!! Let the party begin!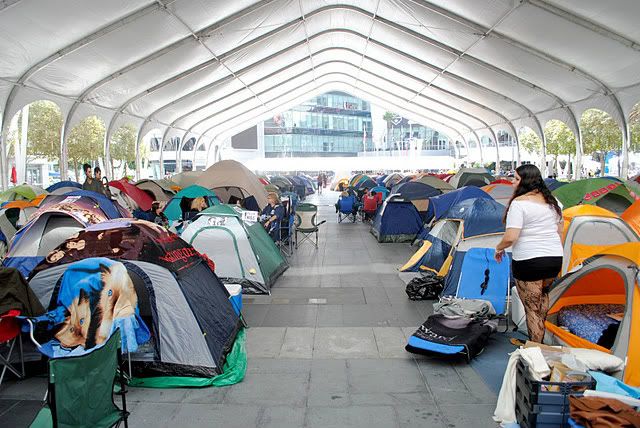 The girls said that once they got there, they realized they were in a completely different league as far as Twihards go. So they got busy getting with the program by making posters and shirts .....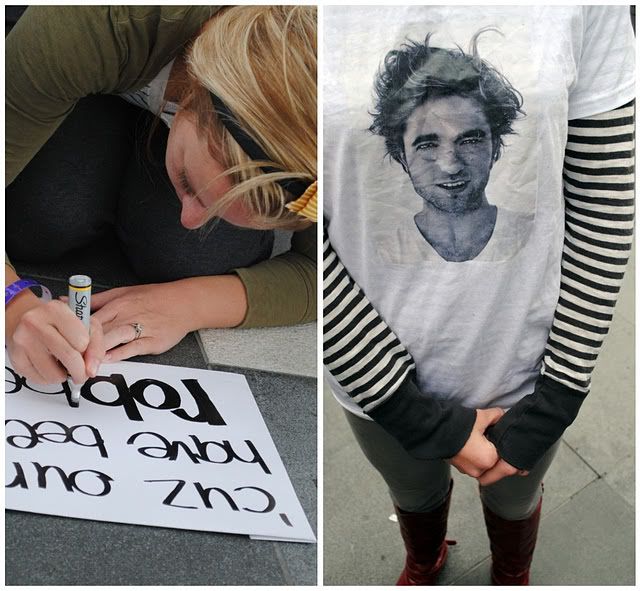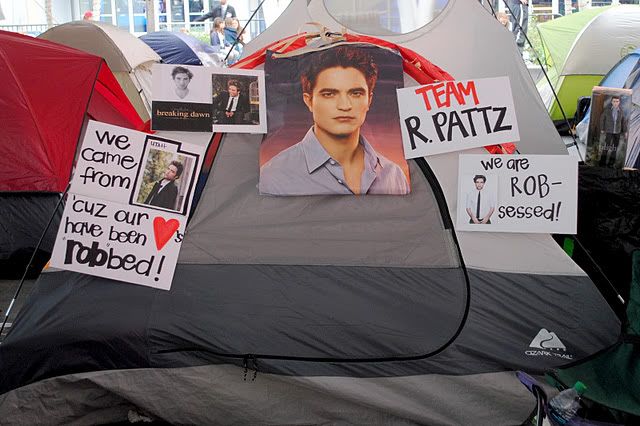 (Paige, Taryn, Taylor, Brynne, Lindsay.)
.... which got them a little bit of media attention. Every day there were cameras!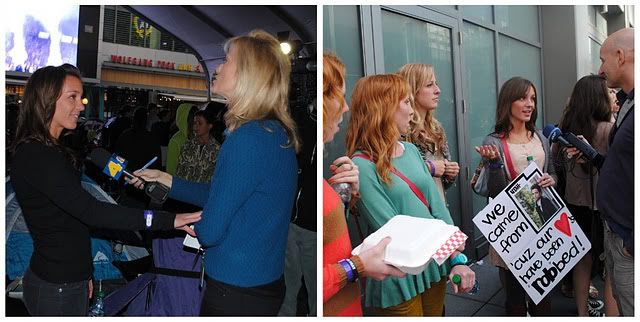 And some days ..... Twilight stars came by to say
hey
.... like "Emmett" who brought 50 boxes of donuts, hugs, and thanks for being great fans. (He's the girls' new favorite.)
.... Carlisle Cullen - who the girls said was SOOOOO handsome in person.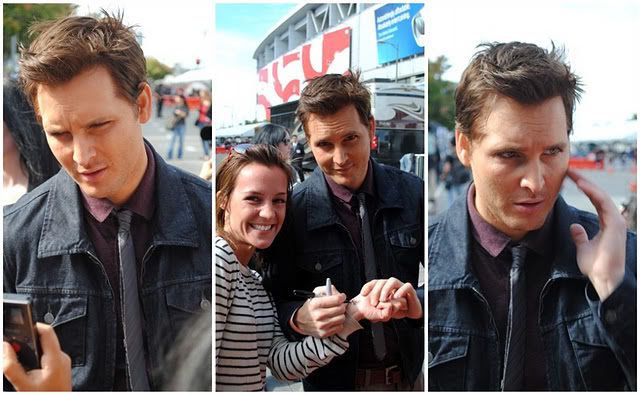 ... and Seth, one of the wolf boys!
..... Stephenie Meyer who brought some autographed copies of her books! (One night, Yahoo also put on a concert for the fans with the various artists who sang on the soundtrack from the movie. Bonus!)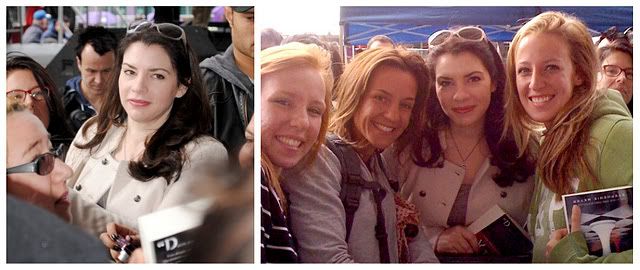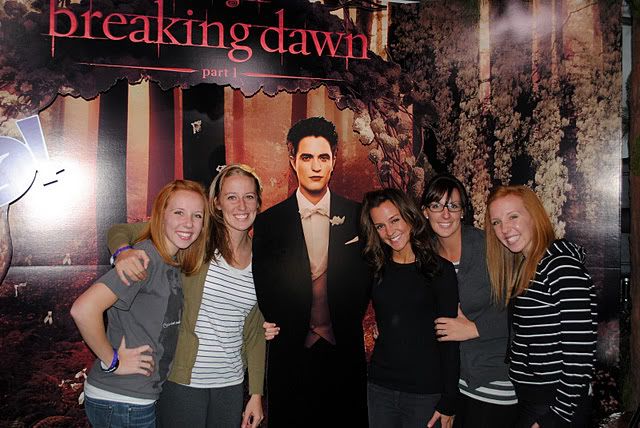 Then, as if it couldn't get any better, IT DID!!!! On the night of the premiere, with a great spot on the
carpet
, those lucky little girls got filled to the brim with celebrity sightings - including (but by no means limited to), Emily, Alice, Kate, Seth, Samantha, Lucy, Eric, Billy, Sam, Felix, Renesmee, Esmee, Jasper, Charly, Rosalie, and ...
Jacob .... Bella .... and Edward!!!!!!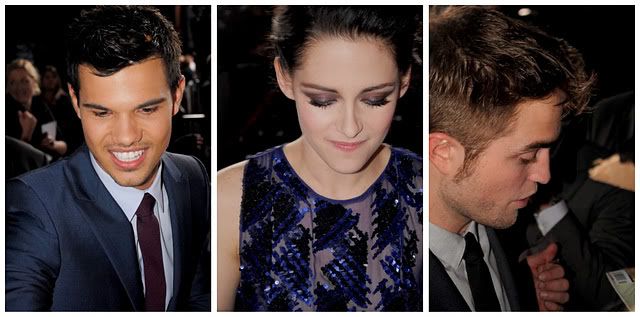 And all three of them signed Lindsay's arm!!!!!
But I am pretty sure that what I got the biggest kick out of, was seeing the professional pictures, shot by the "real" photographers that showed up on Yahoo.com and Today.com with a familiar face beaming in the crowd!!!! (Hey, Paige!)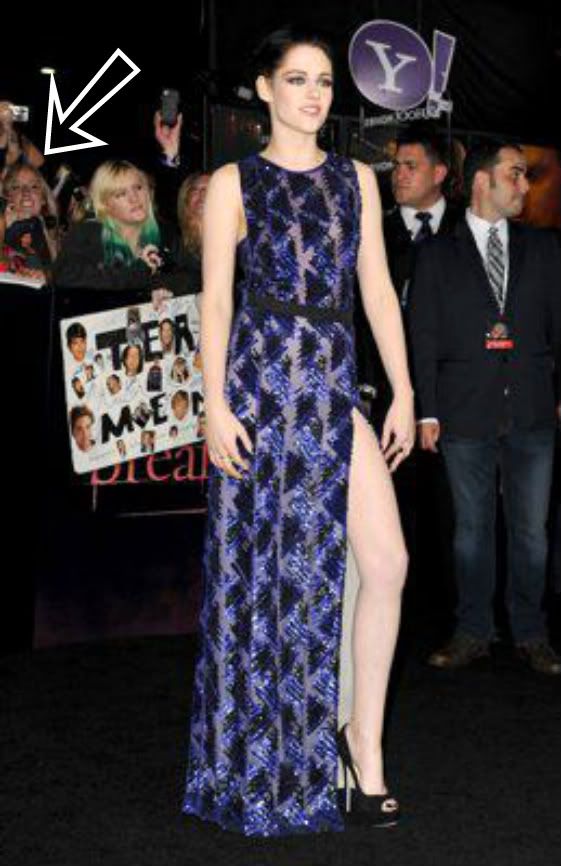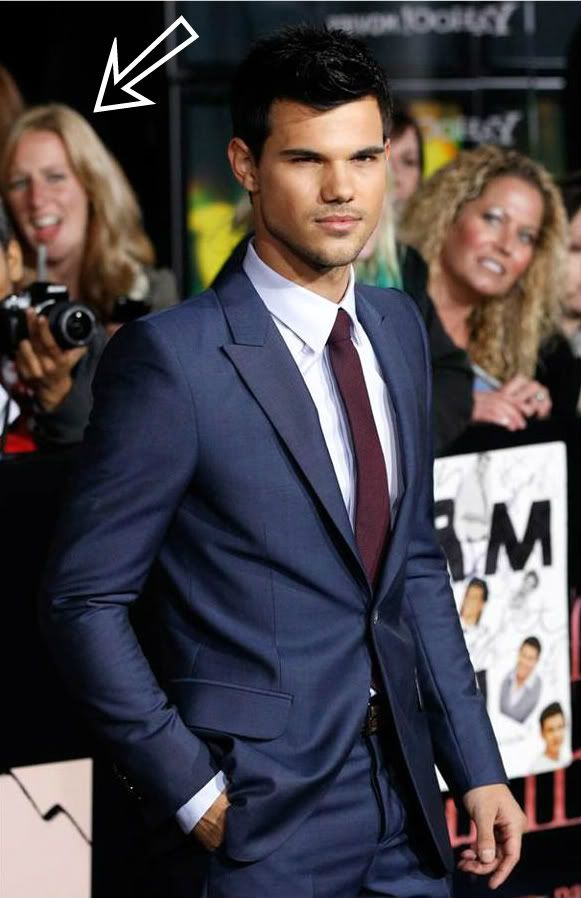 No doubt, the trip of a lifetime for these Twihards .... they dubbed Tent City, The Happiest Place on Earth!
(And then they were surprised with a ticket to attend the premiere with all of those stars!!! Sigh.)


Dreams really do come true!!!