This is Diane and I with cardboard Donny ....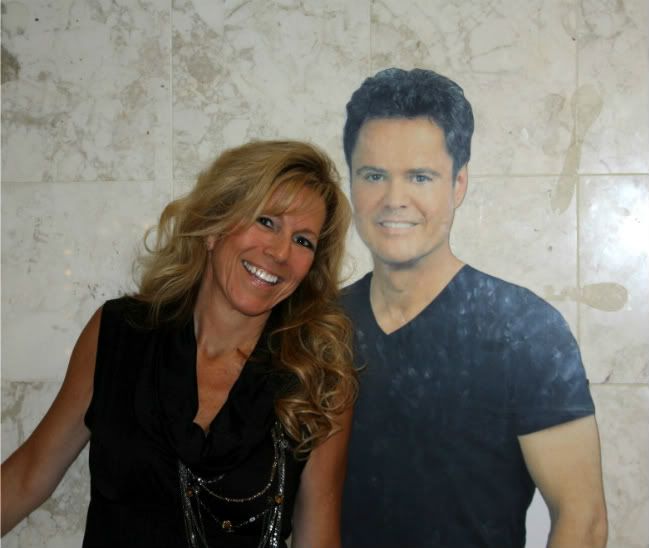 And this is real Donny ...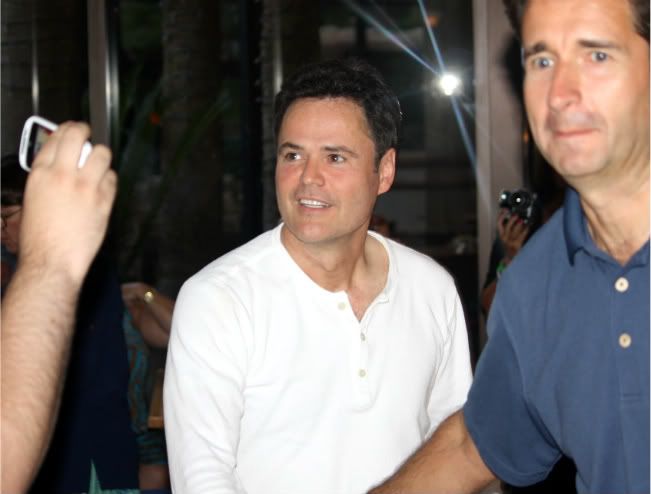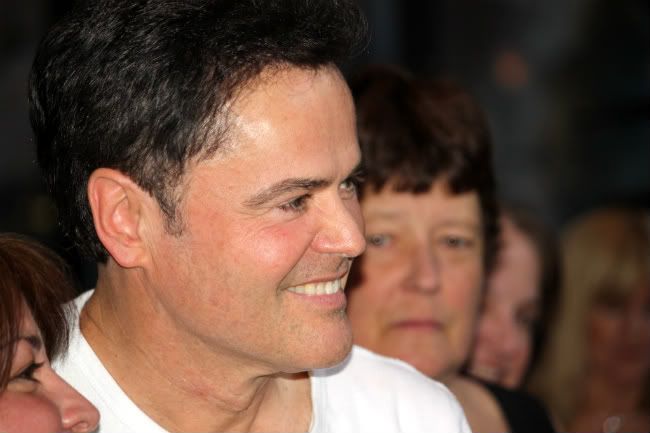 About four years ago, Diane and I went to the Osmond's 50th Anniversary concert in Las Vegas.
It had been a really, really long time since that family had done a concert together and I think they were blown away by the fact that it sold out in about five minutes. They added another concert and it sold out as well. Fans came from all over the world (literally) and it was one of the best times
E.V.E.R!!!
Diane and I felt like teenagers again and reconnected with faces we hadn't seen in years as well. It was a whole weekend of different events where you got to interact with the brothers and take photos, etc. All the brothers, that is, except for Donny.
But since then, Donny has put together a special weekend each year for his own fans (affectionately known as
Donny.commers
.) Diane went with her husband last year, but this year she had a change of heart and decided that her good friend Polly would probably be a lot more fun (good thinking Di), so I got to use his ticket.
One of the reasons Diane was excited to have me join her was that Donny was going to hold an audition for anyone who wanted the chance to sing with him. When she called me to tell me about it, she said, "Donny is picking three people to win! You get to have dinner with him and make a recording with him and YOU WILL WIN so you have to come!!!!!" Now. I do
know
how to sing, but I don't consider myself a singer. (Cee-lo Green said the same thing about himself on
The Voice
this season and I totally knew what he meant.) I can carry a tune, I can sing in church, I sing with my girls, but I am definitely NOT a solo artist. But sweet Diane is one of my biggest fans, so I told her that if I won, since my chances were slim to none, she was welcome to take my place and she could have dinner with Donny instead.
The catch to the audition was, you couldn't choose your own song to tryout with. Donny had written a song called
"One Dream"
and that was what you had to sing. He wrote it, he sings it, and it is completely out of my range. But I told Diane I would do it ... she decided that she would do it too ... so she signed us both up. Her audition time was Thursday at 4:12 and mine was three minutes after that.
Diane came out of her audition all flustered and said she had done horribly, and was cracking up. I came out of my audition all flustered, said I had done horribly, but I wasn't really laughing - because it was kind of embarrassing, actually. The song was so low that in a couple of places my voice just disappeared into a whisper that I doubt was audible from even two feet away. Donny wasn't there. It was his son, Brandon, the guy doing the filming, and John (Donny's right hand man for the weekend), who was walking us in and out of the room. Donny was going to watch the video later and choose the three.
AH.BOY
.
Shortly after that, on the first night of the get together, we went to a buffet where Donny makes an appearance. He walks around to all of the tables and its a great opportunity to say hello, shake his hand (or hug him, pull at him, give him gifts - whatever your preference, depending on the kind of fan you might be), and take your picture with him. John stayed real close and scooted Donny right along since he is always on a tight time schedule. Someone at our table did snap a picture of me with Donny, but it didn't flash and the picture was blurry, darn it. I figured that I had missed my chance. But then I thought again ....
I handed my camera to Diane and told her that I was going to walk in the vicinity of Donny. "Just start taking pictures as soon as I get near him."

I'm so glad I did.