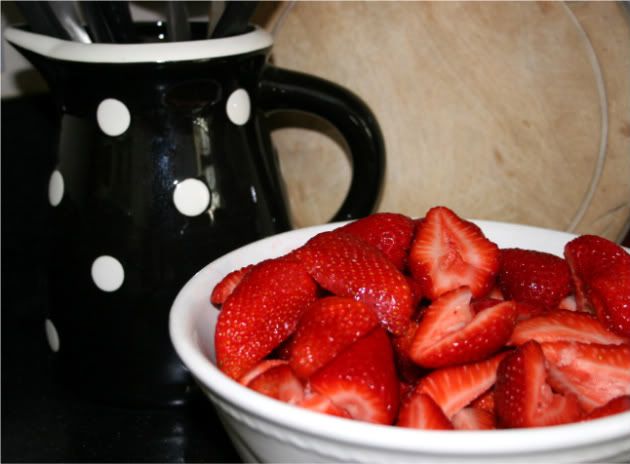 I absolutely

LOVE
strawberries! And summer is a really yummy strawberry season ... its finally summer and the strawberries are out in full force and lookin' mighty fine. (
Sam's Club and Costco seem to have the biggest and juiciest strawberries. Soooooo yummy!)
A chocolate covered strawberry just might be one of my favorite treats.
LOVE!
And it really is a "treat" because I don't get to have one too often. (Although I can admit that there have been times when I have been sitting at my desk, crave one, decide I need a break right then, jump in my car and drive to the Chocolate Cottage and get a few. The problem with that is, since I've made the trip, I don't just get the strawberries. I also get a few chocolate covered grapes and raspberries. And a few mint chocolate truffles. And usually two or three peanut clusters ... all of those are some of my favorite treats too. And I don't usually share. Not because I wouldn't share, I just don't make it home with anything.)
It would frustrate me when I would bring home strawberries from the grocery store, set them in the fridge, and then within just a day or two they would start to get old and I would end up wasting several. (Not happy about that.) So
now
when I bring home a basket of strawberries, I rinse them, cut them up into a bowl and sprinkle sugar on them. That way, sitting in the fridge, all
fixed up and ready
, they get eaten up - still mostly by me.
My son told me he doesn't like strawberries. I know that, but I still ask him every single time I'm fixing them if he'd like to have some. And every single time he says, "Mom, I don't like strawberries." (Okay. It is probably just a matter of time before he just stops responding altogether - sometimes he is just too fun to tease though and I can't resist.)