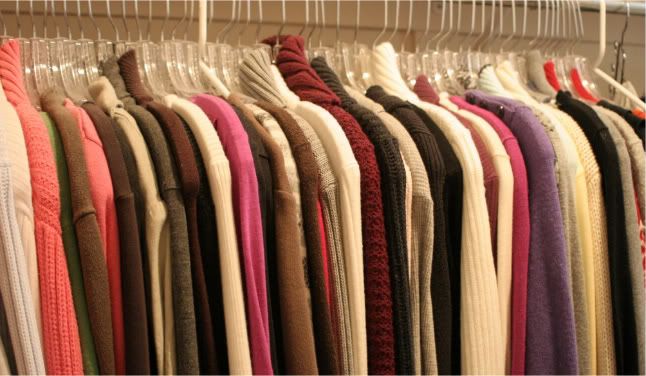 This is the winter side of my closet ... um, can you say monochromatic? I have been thinking that I need a little boost toward the pattern department, what do you think?
Believe it or not my summer side is only slightly more diverse. Still mostly browns, blacks and beiges but with short sleeves. (And I even heard some fashion expert recently say that NO ONE should wear beige. Excuse me? I LoVe beige ... and I'm gonna wear it.)
I was reading my May issue of House Beautiful yesterday. (It's a really good one.) They called it their "Big Advice Issue ... what nobody ever tells you about decorating" and in it, they did an interview with a designer named Vicente Wolf. Here is some of his advice:
First I make sure there's a flow. Like water flowing down a river. There might be a little rock here and a little bit of rapids there, but the river never stops flowing. See how the white flows through these spaces? Walls, floors, ceilings, all white ... And the same linens and cottons turn up everywhere, lots of mercurial grays that are very pale in the day, darker at night. That's the flow ...
You'll never get tired of a white room ... White makes a strong foundation. It creates stability. Too much color and pattern feels nervous to me ... I like my backgrounds clean ... I don't like pattern, I never have ... I keep everything to a minimum.
People might call my rooms stark, but I think they're like when you have a mint in your mouth and you breathe in deeply- there's a freshness, a crispness.
I got to thinking that maybe it's okay that my wardrobe doesn't have that much color or pattern in it ... after all, it might make Vicente "nervous" should I ever run into him. I decided that if I were to be translated into a room it would be one of Vicente's rooms, and I actually do like his rooms.
(And maybe as I walk around in my browns and grays I need to remember it's like when you have a mint in your mouth ... a mint Vicente????)