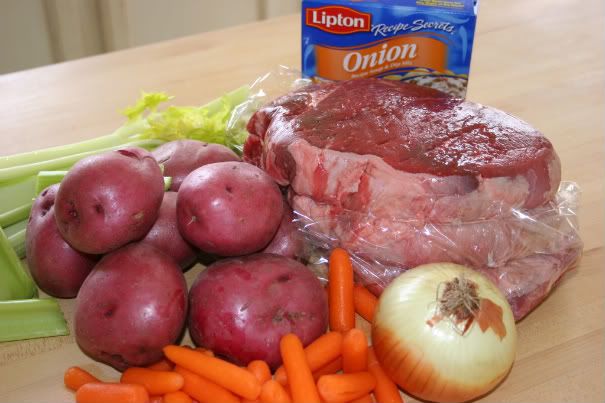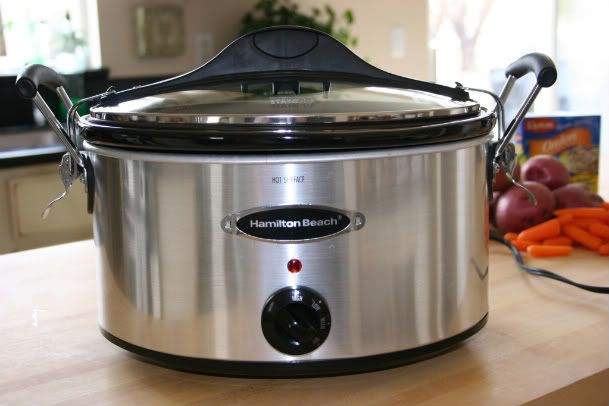 Instructions: Place the pile pictured in top photo into the crock pot pictured below.
Cook on high for approximately 5 hours for some pure deliciousness.
When I was a young mother of four, (I think I can still refer to myself as young at that time. Because first, you're a
new
mom. Then you're a
fairly new
mom. Followed by being a
young
mom. Then pretty much just a
tired
mom. And then maybe you would be considered an
experienced
mom - while also still being a
tired
mom because I think that actually is a given in front of the word
mom
every time. Then you get to be a
grandma
while still being a
tired, experienced
mom ... and then you just get
old
and your kids don't ever remember you being anything else.)
Anyway, when I was a young mother of four, a
tired experienced
mom invited our family over to their house for Sunday dinner. I remember walking into their house and thinking it smelled absolutely divine. The table was set nicely with a tablecloth and fine china.
Our little family (not little by numbers, I suppose, just in size/height) sat down and joined their family of four for a yummy pot roast meal.
I had never made a pot roast meal and frankly, to me at that time, it looked a bit overwhelming to fix. I remember thinking,
How in the world did she have enough food for us as well when it was a last minute invite?
I was impressed. I told myself that when I "grew up" I was going to fix a yummy pot roast meal and invite people over from church one day too.
When I did make my first pot roast meal I could NOT believe how easy it was. Seriously easy. I should have started way before I did because I love coming home after church to a yummy smelling house and knowing that meat and potatoes await me in moments.
Jared and McCall joined us this past Sunday. We had yummy Rhodes rolls too, the kind that taste homemade but you didn't have to take the time to make the dough yourself. And I make those the easy way too - put two rolls in each cupcake holder, let rise for 3 to 5 hours, and bake for 15 minutes or until brown. They were so, so good! Jared took a look at them and said, "What's up with the bum rolls?"
Funny, funny boy! (I had thought the same thing.)