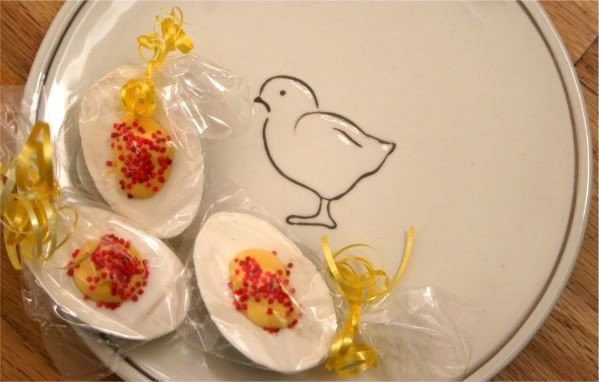 Hippity, hoppity, Easter's on its way. And one of the things I LOVE about Easter is the candy. I am so crazy about Easter candy it is ridiculous. My very favorites are the Cadbury caramel eggs and the Dove's truffle eggs. And the Snickers eggs too ... and the Butterfinger eggs. I do love the Butterfinger eggs ... oh, and the Nestle's crunch eggs. (Who could have guessed that just changing the shape makes them taste so much better?)
All three of my sisters are completely obsessed with the Cadbury mini eggs. And I know they are not alone. Those mini eggs just might be the all time, number one Easter candy obsession. They usually sell out of those pretty fast - at least around here - and I think it is because my sisters make the rounds at all of the local stores and buy them out. I really do. (I think they are as cute as all get out, but they just don't do it for me treat-wise.)
Cute does carry a lot of weight at Easter time though, I will admit. C'mon, the bunnies, the lambs, the little chicks, the white patent leather shoes and socks with lace ruffles!
Easter Sunday is a happy day - you dress up, you eat up, and you get to indulge in chocolate ... hmmm, I guess that isn't too different than a normal day for me. (Have I mentioned how much I love chocolate? Oh, yeah, I did, here.)
And I always make sure to stop by The Chocolate Cottage for some of their deviled eggs. But they aren't really deviled eggs, they are really white chocolate in disguise ... how adorable are they?!