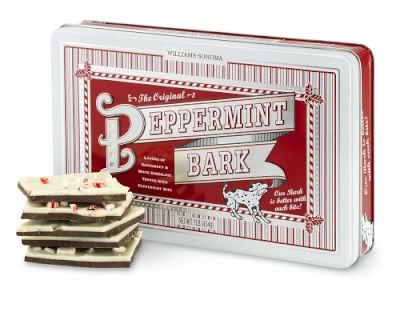 When December 1st rolled around
, I thought, "I better post about other happy things as well as Christmas posts since everyday would be a happy thing about Christmas."
And then I started to prepare for Christmas and got really busy, and now it is December 22nd (WHAT?) and I don't have very many posts this month ... especially about Christmas.
So, I decided it was time to talk about my favorite things about this time of year and one of them is peppermint bark. Not just any peppermint bark because although there are many imitations - for me, nothing is as good as the "
only available at this time of year"
peppermint bark from Williams-Sonoma.
One of my daughter's friends brought me some last week. Yum ... so good!
I was shopping at Target and my friend, Vicki, picked up a bag of Dove's peppermint bark. I did not know there was such a thing and was really excited because I do LOVE Dove chocolate.
Truth be told, they were a little disappointing. Not enough of the peppermint.
But, like other Dove chocolate squares, inside the wrapper of each individual piece was a little "something" to read. Inside of these were little tips from Martha Stewart to help you through the holidays.
I ate about 6 or 7 before the tips started to repeat. I left my wrappers on the counter. I guess my kids thought I was saving them, because before too long there were probably 26! That's a lot of tips.
So I tossed the repeats and thought I would share this invaluable advice with you:
Martha
: Organize your ingredient list before shopping. (My thought:
Seriously? That's your tip for holiday shopping?
)
M
: String lights on border edges and line your walkway. (
Kay, that's a pretty good one. I have thought about doing that. I don't think it would be too terribly hard, except getting the little somethings that hold your lights up.
)
M
: Use gumdrops to make festive snowman pops. (
That's cute. I remember K-mart sold little Martha Stewart gumdrop snow people a couple of years ago. They were pastel. Cute.)
M
: For a dark-colored gingerbread, use molasses as the sweetener. (
Do people really make their own gingerbread? Wow. Good for them!)
M
: Thread jingle bells on a length of cord to tie packages. (
Where do I buy jingle bells?
)
M
: String strands of lights between the trees in your yard. (
Does she mean like they do across the ceiling at the school dances?
)
M
: Crepe-paper bells add a festive touch to the holiday table. (
Hmmm. I don't know about that one. I don't really think so.
I'd have to see a picture.
)
M
: Out of wrapping paper? Use an old map or sewing pattern. (
Okay. 'Cause I do have lots of old maps and sewing patterns laying around.
)
M
: Use beautiful cloth napkins to make lavender-filled sachets. (
No. Now that just sounds like WAY too much work.
)
M
: Glittered lemons make a cheerful centerpiece. (
I would have to agree with that, they do.
)
M
: Shred discarded wrapping and use it to box fragile items. (
Shoot! The trash man already picked up my discarded wrapping! And I don't know where I put my shredder!
)
M
: Try printing your own labels to personalize holiday tins. (
I don't really do tins anymore. I would always forget to bake and put the stuff in them.
)
M
: Use place cards to label food on a buffet table. (
That's a good one. I could do that. And I will, next time I serve my guests from a buffet table and the food needs identification.
)
M
: Dress packages in candy stripes for a sweet presentation. (
?
)
M
: Use beads, wire and pliers to fashion your own ornaments. (
I know I have pliers somewhere. I used them when my sisters and I did boutiques back in the early 90s. I wonder where they are?
)
M
: Create a cone out of card stock, secure with tape and add candy. (
Now that would be cute. Kind of like the little "May Day" baskets we used to leave at our neighbors doors back in New York when we were little. I like that one!)
M
: Parsnips and brussels sprouts are hearty seasonal sides. (
No. No, Martha. Excuse me? Don't we want people to enjoy the sides? I think I have read enough of these ... they don't really apply to me.
)