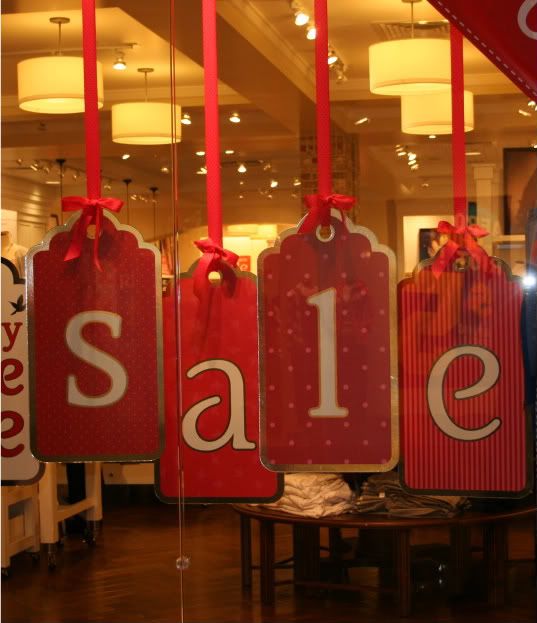 I vividly remember my first "after Christmas sale" experience.
It was the early 80s. I was driving down the 210 freeway in California at 4:30 in the morning. I was the only car on the road - for as far as I could see anyway. It was still dark, it was cold, and I thought, "This is insane. I so did not need to get there this early."
My mom's friend Penny, had mentioned that
Stats
, which was an enormous decorator warehouse store in Pasadena, opened at 5:00 am the day after Christmas and I had better get there right when they opened or I would miss out on all the good stuff.
Penny was (and is) the queen of sales and bargains and I believed her. I wanted to get my pick of ribbon colors and wrapping paper and lights and ornaments. I had only been married a short time and I felt the "need" to stock up.
But as I was traveling the 30 minutes toward
Stats
,
I felt a little foolish for being out at that ridiculously early hour. NO ONE would be there ... there was no sign of human life at all, anywhere around me. The lights were all green heading down the streets. No other car was going the opposite direction to trigger the signals - until I turned the corner of the street that
Stats
was on.
And then it was as if I was on a movie set. Lights, camera, action!!!
Parking attendants were needed to direct traffic. Inside the store it was wall to wall people. Carts were already full and customers were grabbing. Employees were running to help and check out stands had been moved outside under tents - about 15 cashiers long, and a dozen people deep at each one. It was definitely crazy! (I think the ribbon I bought that day lasted for about 5 years.)
I began my
collection
of ornaments (I buy one a year for each of my kids), so after
Stats
I stopped by the mall and every Hallmark store on my way home to see what was left. I collected those
Anna Lee
dolls, and I tried to get at least one a year at the after Christmas sales. They were a pretty hot item back then so I would have to hit department stores, flower shops, and gift stores to (sometimes) find just one.
That year, a tradition commenced. I have been going out ever since. Strictly for Christmas items.
Now that I live in Utah, with all of my siblings, and parents who are here more than not at Christmastime, we all go together. And we all need one more Christmas decoration like we need a whole in the head - but how can we break tradition, right?
It really has become so much more about spending the day together. We all load up in someone's Suburban, pile all of the packages in the back as we leave the stores (sometimes needing a mid-day drop off). We stop for lunch, shop some more, get some treats for the car, some diet cokes, stop for dinner, and shop some more.
Target has always been the last place we stop since they are open the latest, and one year we even asked if we could have some of the store displays they were taking down. (Just thinking ahead. They made great decorations for the church Christmas party the following year!)
The most fun I think we have had was about 5 years ago. We started at around 8:00 am in Provo and went all day, going as far north as Farmington and then back to Salt Lake. We hit every single little shop we could think of. We stood in more than one line for over an hour. We got back to my house (the central location) shortly before midnight and then we wanted to see what everyone else had bought.
So in came all the bags for show and tell! You know how you get a little punch drunk late at night? Especially siblings - going on very little sleep - having exerted all our energy during the course of the day? Well ... it was a lot of fun.