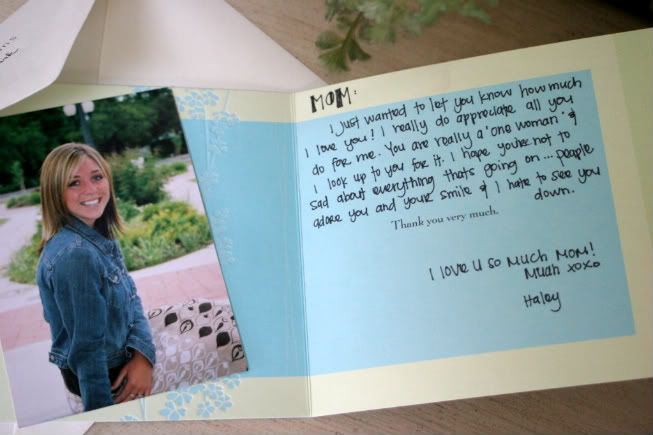 I came home from work this past Friday,
and saw an envelope waiting for "Da Mama" on my entry table. It has been a tough week for me and Haley knew it, which makes me appreciate this card and her thoughtfulness all the more! She left earlier that day for Las Vegas ... UNLV vs. UofU football game ... but took the time to leave me this.
I have always told my kids that cards and notes from them (pictures when they were younger) meant more to me than any present they could buy me - and I really mean it. I save them all too. They are some of those priceless little things that I'm sure we all treasure having in our "special box" as the years go by.
Haley came up with my title of "One Woman" a few years ago too. I was out in the back yard, mowing, and I had to move the trampoline to a different spot on the grass. So I grabbed hold of it, and yanked it to it's new location for that week.
Haley and McCall were in the kitchen looking out the window into the yard. McCall told me later that Haley watched me move that tramp alone, shook her head and said, "Mom is such a ... a o
ne woman
." She didn't really mean to say that, but it came out that way and they both laughed out loud. The nick name stuck, and that is their term of endearment for me! :)
I am grateful for the relationship I have with my children. I adore them, and I let them know that - and that makes me happy.
Thanks for my note Haley ... I love you too!!!