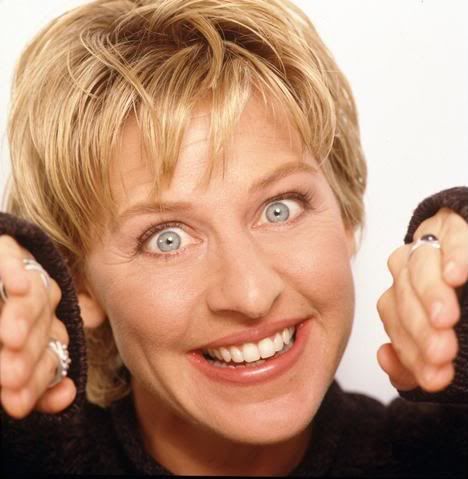 I was going to title this post "Funny People"
and just include Ellen, but I decided I would just go ahead and feature
her
. I have always loved Ellen. The first time (actually, the only time) I saw her in person was back in the early 80s.
My husband and I went to see a Pointer Sister's concert in Santa Fe Springs, California ... or was that just the name of the street it was on? Either way ... it was a very small, outdoor concert with folding chairs on the front lawn of the concert spot. The venue may have been a small college, or maybe an office complex park. Either way ... it wasn't an extremely memorable concert. In fact, it might have even been a Sister Sledge concert. And I think it was on Telegraph Road in Santa Fe Springs ... hmmm?
But a new comedian, Ellen Degeneres, opened their show, and I thought she was absolutely hilarious. Her comedy was clean, relatable, and her delivery (those faces!) was half the comedy for me. I loved it.
I'm not even sure if she had been on the Johnny Carson show yet - that night when he invited her to the couch on her first visit, which was the first time a female comedian had
ever
been invited to the couch. (GO ELLEN.)
I loved her first sitcom too. So funny. One of the funniest episodes was when she was getting her driver's license photo. (If you watched it, you know what I'm talkin' about! If you didn't, you missed out.) And the one where she and Paige go to the spa ... hilarious!
Not too long ago, my girls were watching a dvd in the basement and laughing their heads off. It was Ellen doing stand up. They watched it over and over again and called me down for their favorite routines. We all love Ellen. And I think she is one of those people, who although may have a different "life style" than you do, you can't help but like her. She is personable and cute and funny as all get out, and you KNOW she is a good dancer!!!! :)
BUT, did you know that her brother was the one who came up with the
Mr. Bill
character way back in the day on Saturday Night Live? It's true.