SO ...

talk about posing, right?!!!! That cutie patootie, wisp of a girl on the far left of

this picture is my friend, Trish. She posted this picture on Instagram and I had to immediately call her and tell her how adorable she looked and what a fun little pose I thought she had going on in the picture. I mentioned that my sisters and I always try to get a good angle for taking pics, etc. and she commented on how she thought this was a good angle for her, and then laughed at the fact that it was a little

exaggerated.

(

Note to self:

remember to try Trish's pose the next time we're taking pictures.)
Well ... not too long after that, my sister Leslie had a birthday. Now, Leslie is one of the biggest Mitt Romney fans/supporters that I know. In fact, one of our brother-in-laws told me he was really worried about how Leslie might react if Mitt lost the election. (She survived, but it did take a while to get over the loss.)
The sisters were all going to go out to dinner and shopping to celebrate Leslie's birthday, and I wanted to pick up some balloons for her. While I was at the party store I noticed that they had a card board cut out of Mitt Romney. Leslie had to have it. (For what? Who cares ... if for nothing else than a good laugh on her birthday, that was good enough for me.)
Spring was driving the car when they came to pick me up. Everyone had been running a little late so Leslie just wanted to honk and have me run out. Nope ... she needed to come in. She didn't want to.
"Why do we need to get out of the car? Polly can just come out, I don't understand why we all need to get out and go inside." Spring made her get out, and Les was slightly annoyed.
But when Leslie opened the door, and saw Mitt standing there, her reaction was pretty priceless. "
Oooohhh
." She walked up to him and gave him a hug and a kiss. Her man.
After I took a few (engagement) photos of Leslie and Mitt, we decided to take a group shot. Spring and Leslie dibbed getting to hide behind Mitt first, so Courtie and I were on the ends, and I remembered to give Trish's pose a go ... and Leslie noticed, "What's your pose? You look good."
I shared my new found tip: Stand a little more sideways, kind of throw your head back, and tilt your chin.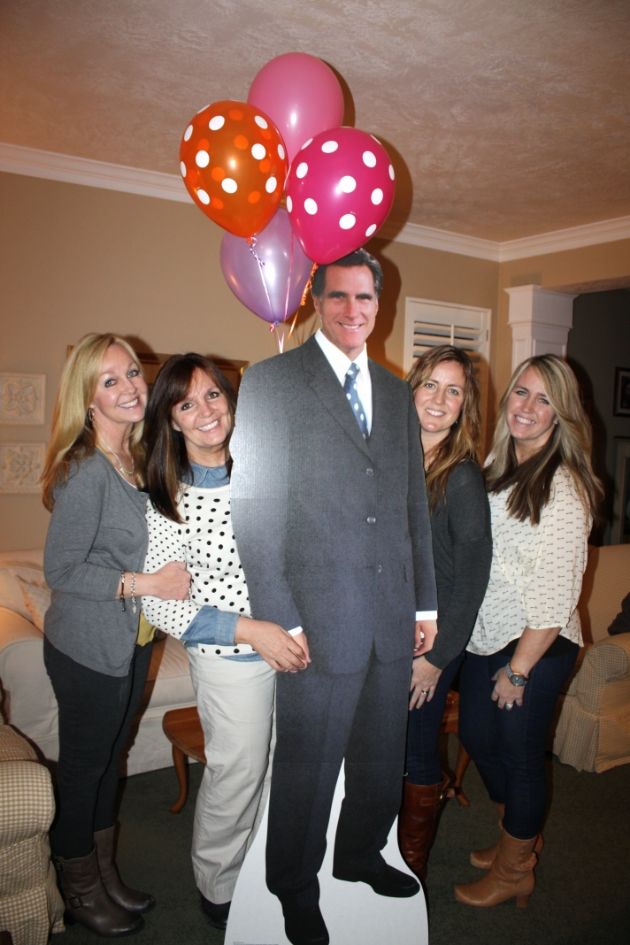 Next picture .... Les and I both did it.
Then we did it again .... a little
too head tilty
though ... looks a little silly. (Okay, a lot silly.)
Then we got a picture with Leslie and her daughters. (I think Leslie just may have found a new favorite pose.) What do you think?!!!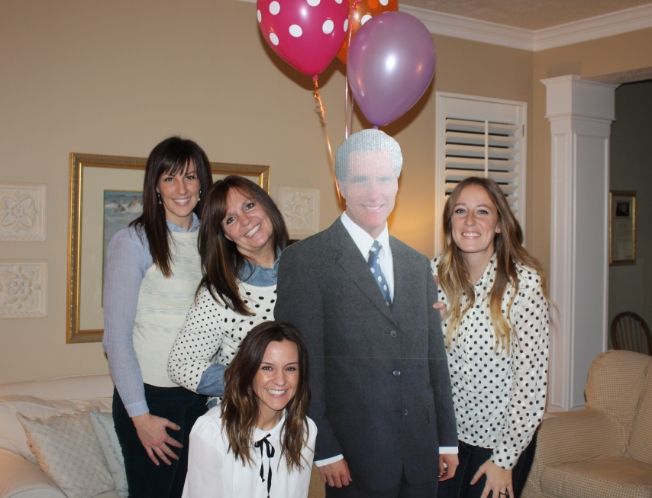 smile