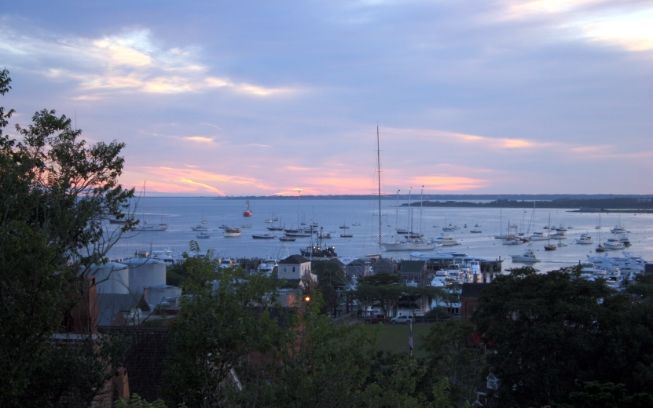 Every so often (but not often enough), my three sisters and I get to take a trip together.
We affectionately call it "the sister's trip" and it is usually a trip back east to visit our parents who live in upstate New York. We took our first official sister's trip back in June of 2006. (I remember exactly when too because I had recently gone through a really sad breakup. My youngest sister, Courtney, said, "Now Peeps, if you are going to be crying and sad the whole time, you can't come. We want to have a good time and enjoy ourselves." I did my very best to buck up, keep my eyes dry and enjoy myself.)
That particular trip, my parents were in the process of restoring their third home on Nantucket Island, so we landed on that lovely little "grey lady" and, as always, we did have a marvelous time. We laughed, we ate too much, we shopped, we relaxed, and we took pictures.
The picture below, of us leaning over the banister on the porch, worked really well for everyone, and by that I mean - any part of our bodies that we might not be so thrilled about (and I'm sure you know what I'm talking about) was hidden. Another bonus of leaning over is that you put your face forward, thus getting rid of a double chin that you might have and not like to see in photos. (Does this sound familiar yet?)
Now, I hate to call my sister Leslie out, but I'm calling her out .... She is the one who is always the most concerned about the pose or position she is in when a camera is in front of her and we like to tease her about that. The chin forward tip came from Leslie.
"It makes your face look thinner."
(It was suggested that I give this warning: Picture Overload Ahead)

One other really great tip from Leslie is just to go ahead and hide yourself behind someone else. She's pretty good at that too. And it never fails that when we're looking at our pictures, Courtney (in the pink shirt) always says, "Oh my word. My boobs. I am the one that needs to be hiding!"
In 2010, we were on another trip to New York. Now
that
trip was really a turning point for new tips on having your picture taken. Note the picture below. Leslie and I were sticking with our old tried and true tips: hide behind someone, push your chin forward .... when we looked at the picture of Spring (bottom right in the pink polka dots) we all thought she looked super cute. She said, "That's because I got some new tips about looking good in pictures." She shared ..... one of them was to cock your head just a little bit. She did it, Leslie did it - looks pretty cute, right?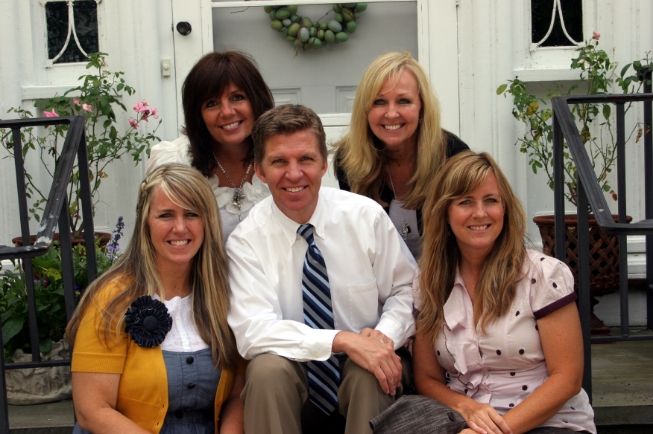 Then we went to Niagara on the Lake and most of the new tips went out the window - at least on the picture below. Leslie and Courtney did good on their
hide me
technique and Spring did well on her
cock your head a little bit
technique, but what the heck was I thinking? (Slouching is never a good thing.)
After dark, we were over at Niagara Falls and wanted more pictures. Another tip that Spring shared with us was to put your hand on your hip. Believe it or not, that was the first time we had heard about that tip and yet, now, everybody does it in pictures. (And if you haven't noticed it yet, now you will. EVERYBODY does it.) It's a great tip too - makes you look thinner. Well, unless you aren't quite ready for the picture because you were just practicing the tips, like in the photo below. (Chin out Les ... There you go.)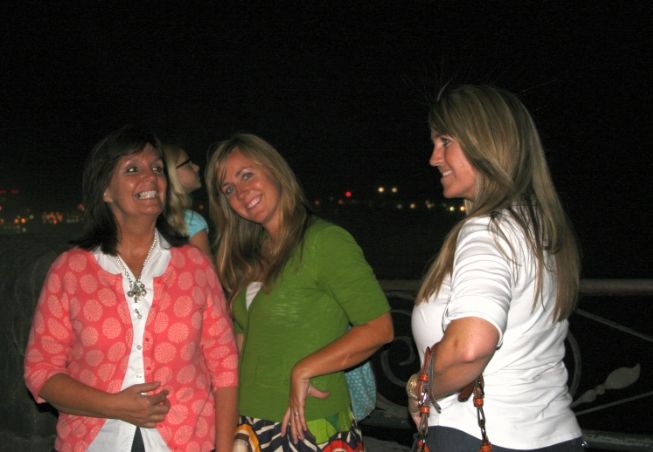 Now, there
can
come a point where too much of a good thing is ... well, too much of a good thing, as in this photo. (We hadn't shared the tips with our mom yet.)
Leslie and Courtney were trying to get in the best hiding position, which totally cracked Spring up, but this picture makes me laugh, and then I remember how insanely hilarious that trip was for so many reasons. Mostly, on this particular night, because we were making fun of Leslie for not getting a passport and teasing her that she wouldn't be able to get back over the Canadian border and we were going to leave her because she should have done what the rest of us did and not think that she is the exception to the rules ... and we were hungry and tired and didn't want to deal with the border patrol. (Isn't our dad the cutest?!)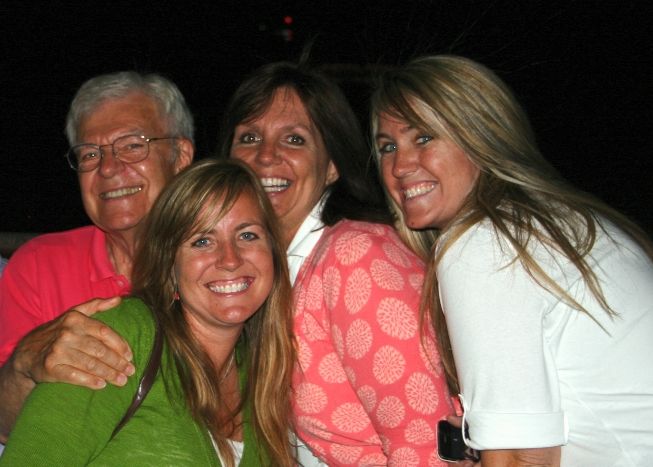 Fast forward to Nantucket, 2011. Here we are on the ferry heading over from Hyannis, Mass. No one really wanted their picture taken. We had just driven about 7 hours to get to "
the
boat
" but hey, you're on a boat to Nantucket and I'm taking your picture. (Note that some tips were still followed.)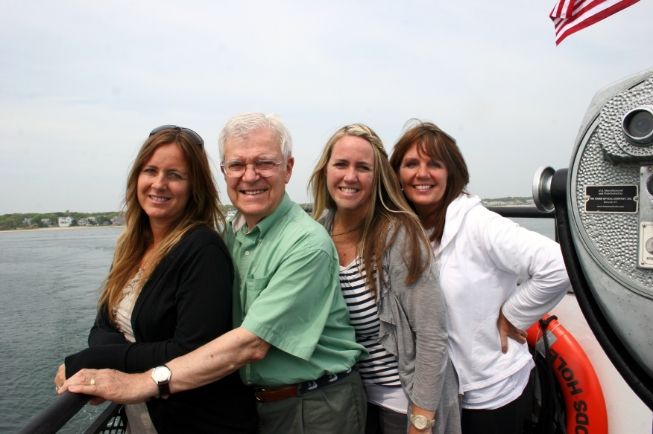 One of the mornings on Nantucket, we all rolled out of bed and went into town to get some treats at the bakery. No one was really fixed up for the day yet, and eyes were still sleepy, but many tips were still used in the photo below: hand on hip, lean, push your chin forward, tilt your head, and Leslie and Courtney's favorite,
hide yourself.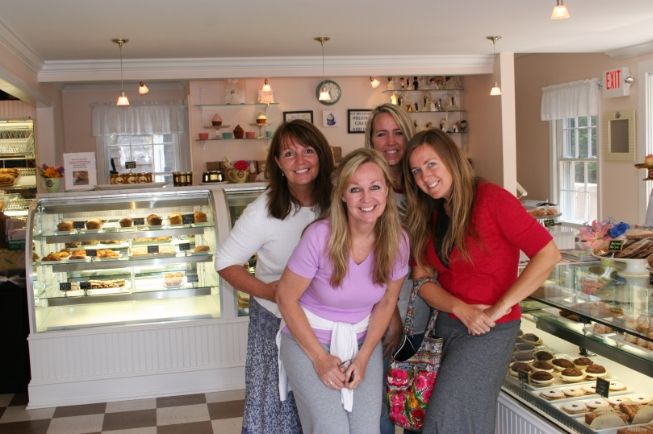 Later on in the day, we took a drive out to the other side of the island, into Sconset. We stopped at a park along the way and wanted to get a picture of this bronze sculpture. Our mom said she wanted us to be in the photo so she took the picture. I was leaning, Spring was doing an awesome pose and tilting her head (which she's the best at out of all of us) and Leslie found the best place to hide.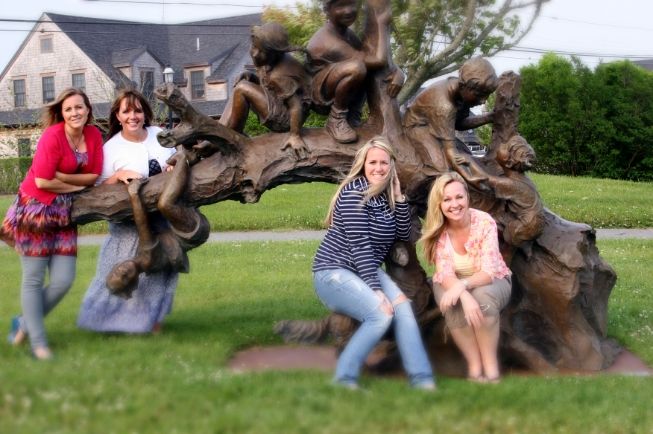 And from the park, we went to the beach. It was FREEZING cold, but Spring had said, "I am not going to be on Nantucket Island and not put my feet in the sand." So we did. And our dad took the picture.
(Leslie - "Wait, I think my hair was in my face." Courtney - "Wait, mine was too.")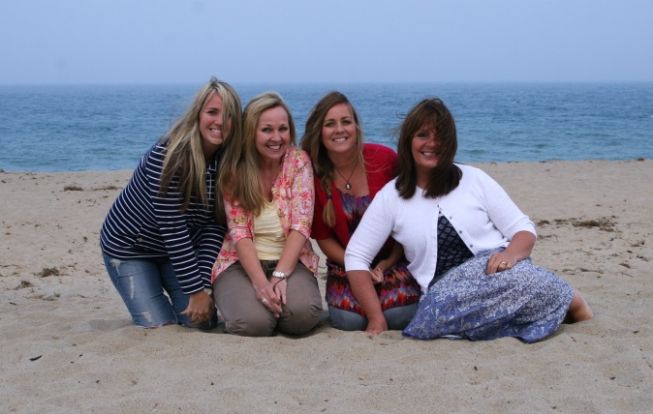 We also realized we hadn't really implemented the tips, so we tried it again.
Then we had a brilliant idea ....
Let's take our picture jumping like our kids always do!
But as hard as we tried ... none of us could really get up off the sand. Oh, and we tried. It was just not gonna happen. But we sure did get a good belly laugh out of the attempts ......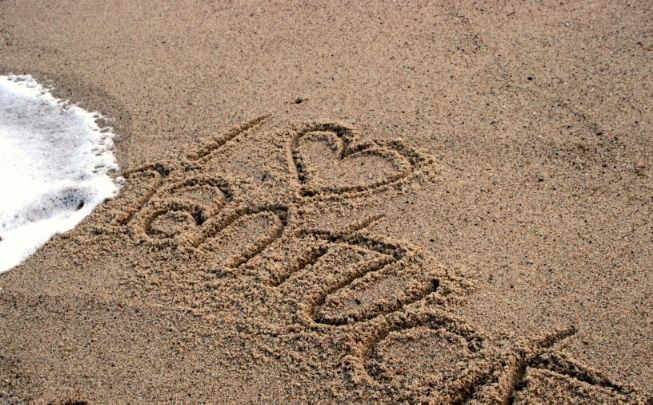 ....... laughs kind of like Leslie, and her hysterical laughing in this picture. (Sometimes we get a candid shot without worrying so much about the pose.)
Just not usually. Usually, it's posed. And all the while trying to utilize the tips of the trade ... if you will.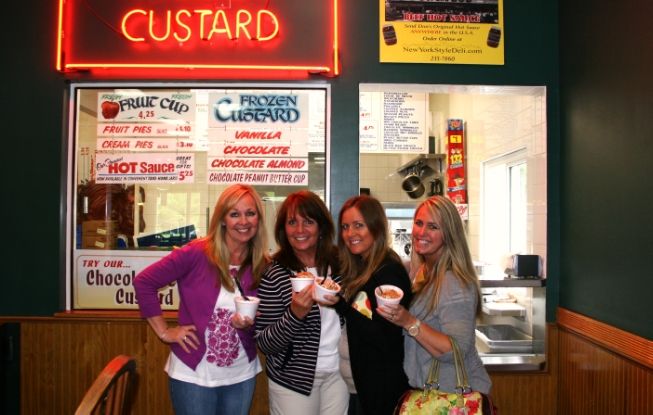 (Clearly, I paid the most attention to the hand on the hip tip, right?!)
Cleaning out the bull barn. (Man, these girls are good).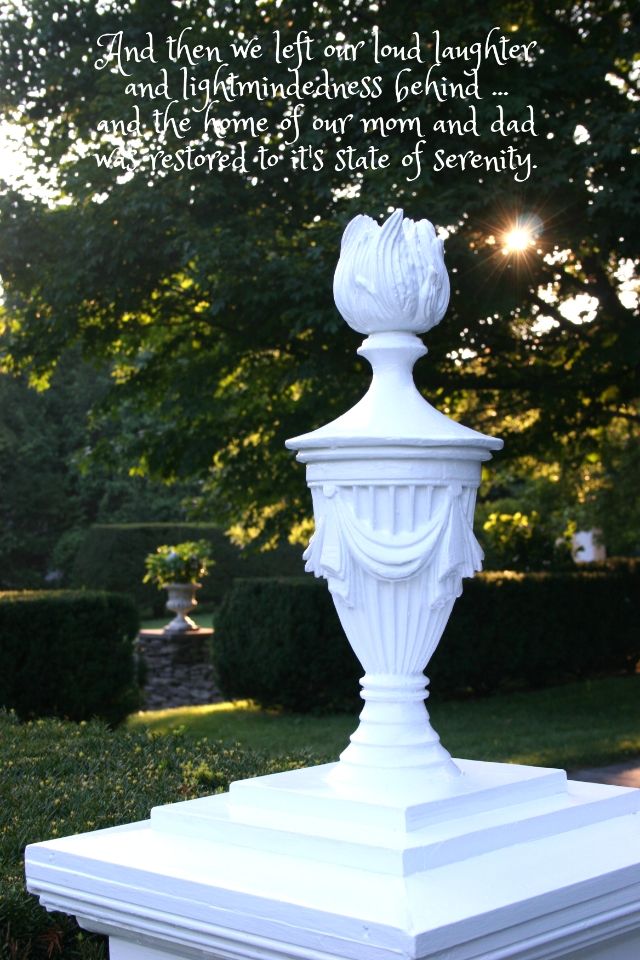 Sooooo,
.
.
.
.
.
.
.
.
.
.
The next time our mom and dad came out to Utah, we were all together doing yard work at Sundance and decided to have a "family portrait" done, and naturally, implementing ALL of the many tips. By then, we had told our mom about them too - hand on your hip mom, it makes you look thinner.